11225 Private Ernest Mackness, 1 Cameronians (Scottish Rifles)
Ernest lost his life on 1 October 1917 not in combat, but in front of a firing squad.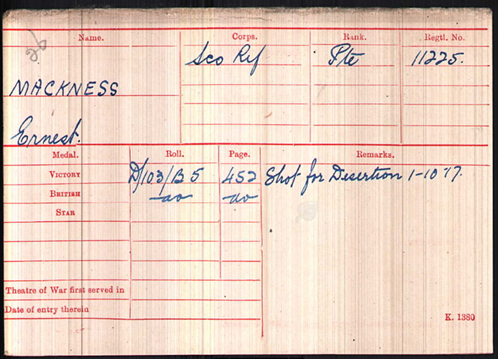 Mackness, a regular soldier aged 25, was under a suspended death sentence when he went absent on 22 August 1917 as his battalion moved into trenches at Nieuport. No doubt it was a combination of his existing suspended sentence and the fact that his battalion was involved in some stiff hand to hand fighting as soon as it went into the trenches that sealed his fate.
Ernest was born on 2 March 1892 in St. Margarets, Leicester to parents Arthur (a general labourer in a factory) and Louisa. Like his  siblings he went to work age 13. By the time of the 1911 Census, the 18 year old Ernest, was living at 96 Hawthorne St, Newfound Pool, Leicester with his 9 siblings. His father and two of his brothers all worked in a shoe factory. Two of his brothers, Arthur and Harold also served. Arthur was once absent for 36 hours, and deserted on 25 Sept 1918 only to be apprehended on 1 May 1919. Whilst Harold, who enlisted 4 August 1914 was discharged permanently in November with a heart condition. 
Private Mackness was shot for desertion on 1 October 1917 at Blaringhem, which is a small village about 12 kilometres southwest of Hazebrouck. Within the churchyard there are two pairs of Great War headstones: Private Mackness lies to the north side of the church alongside an 'unknown' soldier of the Great War.

On 7 November 2006, the British Government agreed to give a posthumous pardon to all of those executed for military offences in the First World War. 
1 October 1917
Research by David Tattersfield MA, WFA Development Trustee.
Image courtesy of the The War Graves Photographic Project