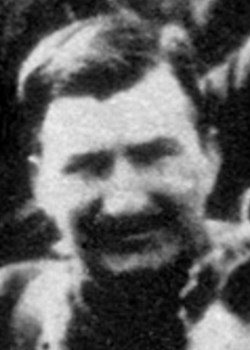 Henry Gunther was born on 5 June 1895 in Baltimore, Maryland,
Henry was a bank employee prior to his enlistment in September 1917. A supply sergeant in Company A, 313th Infantry Regiment, 79th Division at the time of his arrival in France in July 1918, he was shortly afterwards demoted to private after censors intercepted a letter he had written to a friend urging him not to enlist.
On the morning of 11 November 1918, a 79th Division advance towards Metz was ordered even though it was, by now, general knowledge that the Armistice would come into effect at 11:00 am. During this advance, Henry Gunther's platoon encountered two German machine-gun sections blocking a road near the village of Chaumont-devant-Damvillers and was forced into cover. The Germans, at this stage, apparently fired some warning shots over their heads and then ceased fire (obviously, they, too were aware of the approaching Armistice). During this lull Henry, for reasons unknown, jumped to his feet and, despite orders to stop, single-handedly attacked one of the machine-gun positions. The Germans attempted to wave him back and refused to fire until he was within a few yards of their position. Henry was killed instantly, the 79th Divisional history recording that, "Almost as he fell, the gunfire died away and an appalling silence prevailed".
According to most sources Henry Gunther died at 10:59 am, just one minute before the Armistice, making him officially the last combat death of the Allied nations during the Great War. He was posthumously awarded the Distinguished Service Cross.
In 1923 his remains were returned to the USA where he is buried in The Most Holy Redeemer Cemetery, Baltimore. A French memorial, dedicated in 2008, can now be found near the spot where he died.
11 November 1918
Research by David O'Mara.