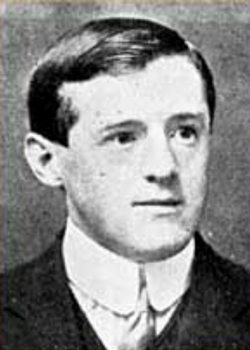 Born 1893, Skipton.
Son of Edward (a train driver) and Hannah Maria .
In 1901, age 10, Arthur lived at home with his parents and siblings Amy (19), Edward (16), Thomas (10) and Alfred (8). His older siblings worked in a local mill. 
In 1911, age 20, Arthur was still at home with Amy, Thomas, Alfred and Alice.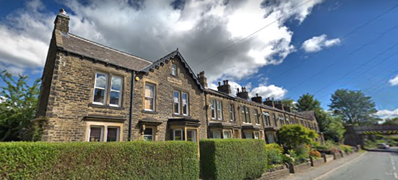 Living at 14, Airdale Terrace, Skipton, Yorkshire, at the time of his enlistment in May 1915, Arthur - a shoe maker by trade - arrived in France on 7 October 1915 as part of a reinforcement draft to replace heavy losses received at Loos.
Taking over trench-holding duties in the Armentieres sector from his arrival, Arthur was killed by shellfire around midnight on the night of 11/12 January 1916 without taking part in any major engagement.
He is buried at Cité Bonjean Military Cemetery, Armentieres.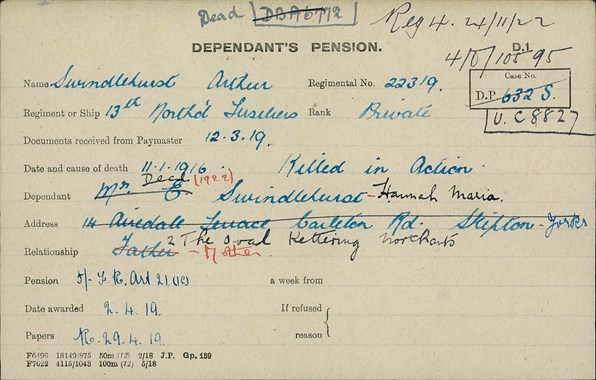 His Pension Card (above) contradicts the CWGC entry - his card giving the date of death as 11 January. Below is the corresponding Pension Ledger for Arthur's pension claim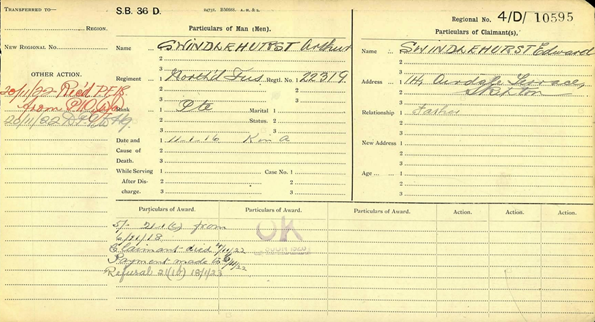 22319 Pte Arthur Swindlehurst, 13th Bn Northumberland Fusiliers (No 2 Platoon, A Coy).
12 January 1916
Brothers Edward, Thomas and Alfred each enlisted, served and survived the war. 
Research by David O'Mara
Sources: The Western Front Association Pension Ledgers and Cards on Fold3 by Ancestry, England Census Returns 1901, 1911. UK, Britsh World War I Army Service Records, 1914-1920.