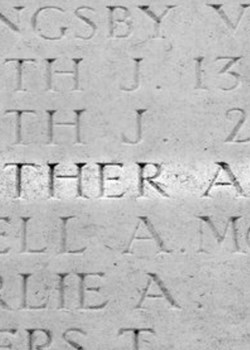 Albert Smither was born on 14 July 1895 in Bethnal Green
Albert lived in Tottenham and Walthamstow, attending Blackhorse Road Boys' School from 1904-1909.
When he enlisted in August 1914, he was working as a wood machinist, working for Harris Lebus, England's largest furniture manufacturer,
He joined the 7th Battallion, The Essex Regiment and by November 1914 had been promoted Lance-Corporal. He served in Gallipoli in 1915, returning to England in April 1916.
He suffered repeated bouts of ill-health but, in December 1916 was posted to the 2nd/4th Royal Scots.
He was posted to France on 2 April 1918, having lost his Lance-Corporal's stripe.
He was killed, posted as missing in action (to confirm) while in the relatively quiet Arras sector. Personal items were returned to his wife, though the body was lost and not formally burried.
He is commemorated on the Loos Memorial at Dud Corner Cemetery, Loos-en-Gohelle. He left a wife.
12 September 1918 killed in action.
Research by Malcolm J Doolin with additional details provided by Chris Baker.
Reference 'The Boys of Blackhorse Road. The Story of an Elementary School War Memorial'.
Battle of Harvincourt. Wikipedia.