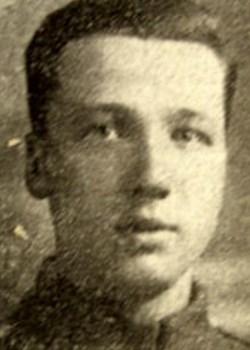 A weaver at Thompson's Mill, Trafalgar Street, Burnley before the war
Born in 1895 to parents James and Lettice Anne, at the 1911 Census Arthur was living with his extended parents and his extended family at 58, Baron Terrace, Healey Wood, Burnley. 8 of them, parents, three sons, son in law, daughter and their son Alexander lived in a 4 roomed dwelling. Age 16, Arthur was a cotton weaver, 
Arthur was also a member of the Burnley Lads Club, he enlisted into the Royal Army Medical Corps (Territorial Force) (the 2/2nd EL FA 'Callams Own') at Burnley barracks in mid-November 1914 and, after training in Colwall and Heathfield, Arthur embarked upon the HMT Royal Edward at Devonport on 30 July 1915.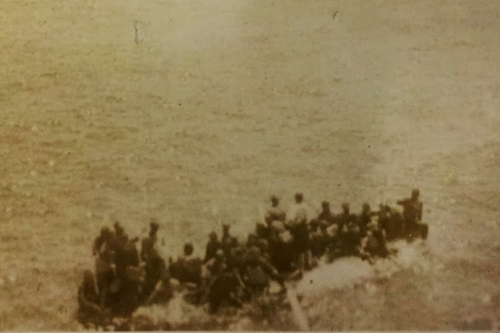 Bound for Gallipoli, the HMT Royal Edward was struck by a torpedo from the UB-14 in the Aegean on 13 August 1915 and sunk. 440 men were rescued. Arthur was one of the 77 men from Burnley on board who died that day and 935 in total. Having no grave but the sea, he is now commemorated on the Helles Memorial, Turkey.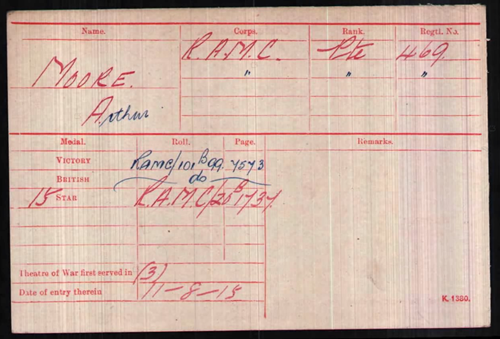 13 August 1915 469 Pte Arthur Moore died at sea
Research by David O'Mara with additional detail by Jonathan Vernon