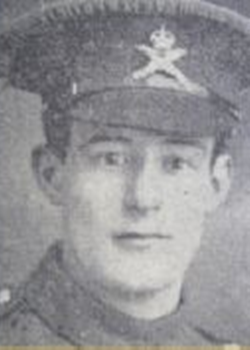 Born in Burnley, Lancs. in 1891.
William was the youngest of six. His father Charles (a cotton cloth looker and later a gardener) died in July 1983 when William was 2 years old. His parents, Charles and Mary had moved to village of Worsthorne near Burnley soon after marring in around 1880. In the earlier census returns for 1881 and 1891 the young family live with Mary's parents.
At the 1901 Census, age 10, Wiliam was living at home (1 Hanworth Street,Worsthorne) with his 45 year old widowed mother, Mary, his five older siblings: Mary 45 Cotton Weaver, Jane 22 Cotton Weaver, Ernest 21 Shopkeeper, Alice 19 Cotton Weaver, Minnetta 14 Cotton Weaver, James and William 10.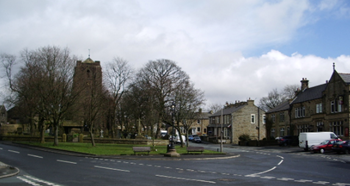 At the 1911 Census, age 20, William (a cotton weaver) was living at home (7 Church Street, Worsthorne, nr Burnley) with his widowed mother, Mary, now 55 and four of his older siblings: Jane 32 Cotton Weaver, Ernest 31 Shopkeeper, Minnetta 24 (a collar machinist in a laundry),  James 20 (a cotton cloth looker) and his niece Ida age 7.
Originally enlisting into the East Lancashire Regiment in April 1915, William was sent to the 10th (Reserve) Battalion (and numbered 10/21472) before proceeding overseas with the 8th Battalion (to which he was transferred) serving in France. Soon after arrival in France, (March 1916), William was transferred to the MGC , becoming a part of the newly formed 111th Company that, although in a separate brigade, was in the same Division (37th) as his original unit.
On 13 July 1916, whilst in support in the vicinity of the Tara-Usna line (La Boisselle), he was badly wounded and died of his injuries whilst in the care of a Field Ambulance at Albert. He is now buried in Albert Communal Cemetery Extension.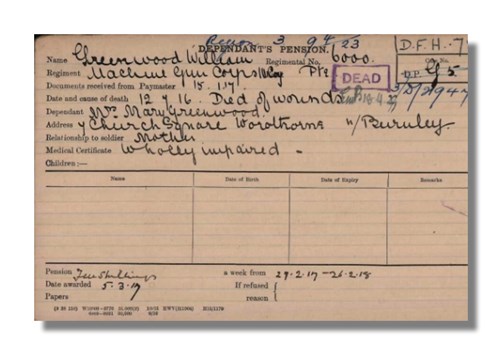 6000 Gnr William Greenwood, 111th Company, MGC (Inf).
13 July 1916
William's brothers Ernest and James also served, Ernest in a Road Construction Company.
James Greenwood born 1891, enlisted in the RAF in December 1916 but was discharged 12 October 1918 due to chronic bronchitis. He had married 22 December 1917. He re-enlisted in the King's Liverpool Regiment in 1920 with whom he remained until 1944.
Research by David O'Mara with additional details by Jonathan Vernon