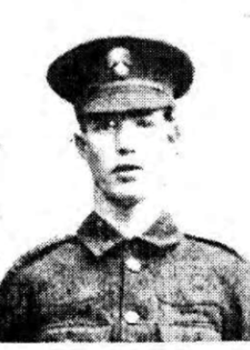 Born 27 February 1893 in London
Parents Arthur and Laura (née Pauling)
Educated at Xavierian College, Mayfield, Sussex and St. Edmund's College, Old Hall, Ware.
A keen sportsman, he played cricket and football for Neasden Sports Clubs. He was known as 'Dick' to his family and friends.
At the 1911 Census, age 18, Dick was living in Willesden at 22 Craven Park Road with the family and working as an apprenticed Printer and Bookbinder through the Stationers' Company where his father also worked. Nine of them lived in an eleven roomed house: parents, and six children and a housemaid. At the time of enlistment the family were living at 12 Grange Park, Ealing. 
Dick enlisted on the outbreak of war in the H.A.C. his enthusiasm and skill at football continued becoming 'the heart and soul of the battalion football team'. 
He was hit in the head around 4.30pm by machine gun fire during an attack on a German position. He was returned, unconscious, by stretcher to the dressing station. He was seen by the clergyman Mr Peacey. 
Dick Fowler was buried a Lochre, nine miles from Ypres with a wooden cross erected with his name marked on it. 
 No.1465 1st Bn Honourable Artillery Company
Sources; De Ruvigny's Roll of Honour, Census Returns, Middlesex County Times, 31 March 1915