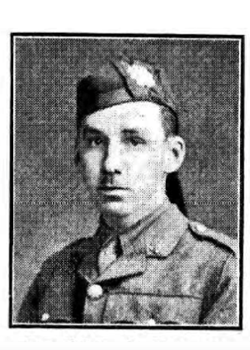 Born Glasgow 10 April 1895
Son of Donald R. Cameron (a doctor) and Jessie (née Sharp).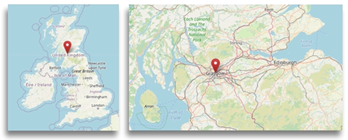 Age 6 at the 1901 Census Donald was at home with his parents, 3 siblings and their 2 live in domestic servants in Glasgow.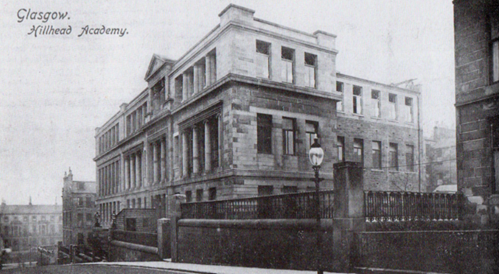 He was educated Stanley House, Glasgow Academy and Glasgow University where he was a member of the O.T.C.. He was studying medicine with the view of joining his father in practice.
On the outbreak of war Donald applied for a commission and was gazetted 2nd Lieut. Highland L.I. Sept 1914 being promoted Lieut. July, 1915 and subsequently appointed Assistant Adjutant.
He went to France April 1915.
On the morning of 13 September 1915, based at Cambrin, he went out about 7.00am with a man from his platoon to make a reconnaissance of the enemy's trenches. He crawled out in the long grass in front of the line in comparative safety as he had done the previous day. Not being satisfied with one or two details he had asked to go out again. On making his way back he was wounded by an enemy sniper. A captain and stretcher-bearers went out. Whilst bringing him in with every possible precaution the party must have been observed as the enemy's snipers fired again, with the result that he was hit twice more, the last, fatally.
The officer in whose arms he died wrote that 'he died like a soldier and a man; when he was wounded he was pluckier than anyone I have ever seen, and was urging those of us who had come out to try to help him to go and leave him.'
He was 20 years of age.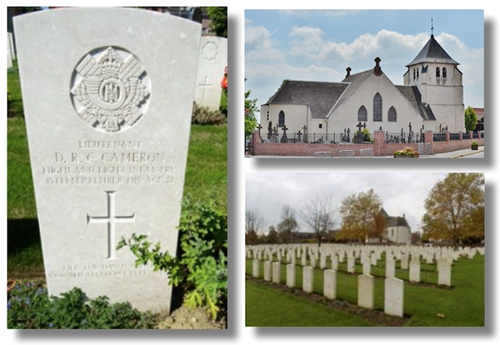 He was buried in the cemetery at Cambrin and now lies in Cambrin Church extension. 
Lieutenant and Assistant Adjutant Donald R.C. Cameron 11th (Service) Bn. The Highland Light Infantry
Killed in action 13 September 1915
Sources: De Ruvigny's Roll of Honour, 1914-1919 Vol.I; The Glasgow Academy Roll of Honour, Find A Grave; Aberdeen Press and Journal; The Glasgow Academy Roll of Honour.