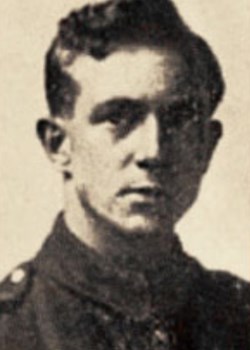 James Tattersall was born in 1894.
A weaver from Stacksteads, Lancashire. His father was a coalminer. 
After enlisting into the West Riding territorials in Barnoldswick, James was sent to France in September 1916 and served on the Somme and in Belgium before being wounded in July 1917, whilst serving as part of a Lewis Gun team. 
Sent back to the UK in October 1917 for recuperation, he married Edith Whiteoak, a 22 year old cotton weaver, on 27 November 1917, before returning to France on 5 December.
Just nine days later, James was killed in action on the Passchendaele Ridge. He has no known grave and is commemorated on the Tyne Cot Memorial to the Missing, Belgium.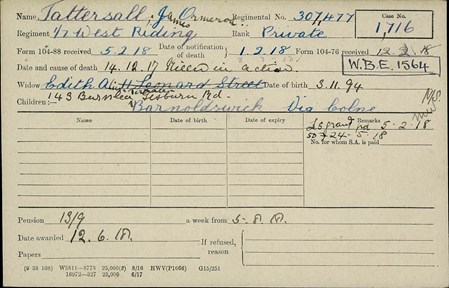 Above: The Pension Card for James Tattersall, which is part of the WFA's collection on Fold3
307477 Pte James Ormerod Tattersall, 1/7th Bn DoW (W.Riding) Regt.
14 December 1917 killed in action 
Research by David O'Mara with additional research by Jonathan Vernon.