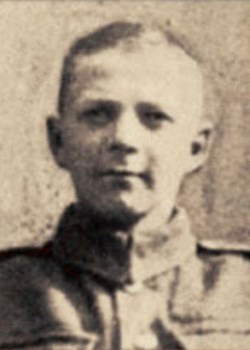 Born at Cononley, Yorkshire in 1898
The youngest of five children born to Charles Walker an accountant and insurer. At the time of the 1911 Census the family were living at Prospect House, Cononley. 
Robert Walker was a clerk with Messrs.Whitworth, Armstrong & Co, Newcastle (following on from being a shopkeeper at a local Co-op).
He had formerly been a member of the National Volunteer Corps and was conscripted into the Training Reserve at Hornsea in February 1917, prior to transfer to the Northumberland Fusiliers and overseas service in June 1917.
A keen cricketer and footballer, Robert was killed in action whilst on routine trench holding duties on the Belgian coast on 14 September 1917.
He is buried in Coxyde Military Cemetery.
Brother Charles Percy, born 1893, was in training in 1917. He served and survived the war. 
Brohter Walter Henry, born 1896, enlisted in November 1915. He transferred to the RAF April 1918 and survived the war.
37118 Pte Robert Coates Walker, 16th Bn Northumberland Fusiliers
14 September 1917
Research by David O'Mara
Sources: 9 October 1917 (Craven Herald), Royal Airforce Airmen Records, 1918-1940.