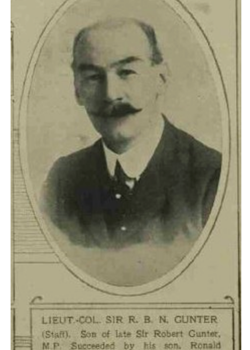 Born 4 August 1871 in Wetherby, Yorkshire.
The son of the MP for Barkston Ash Division, Sir Robert Gunter, the owners of Wetherby Grange, Yorkshire with estates in Earl's Court and Brompton and Jane Margaret (née Benyon). 
His father and uncle had served in the Crimea. He had two brothers and a sister. A Justice of the Peace and a member of the Wetherby Town Hall Committee. 
Nevill was educated at Castleden Hall prep school.
He served during the South African War and was mentioned in despatches. 
In 1902 he married Clara Lydia (née Hills), widow of Mr John Nightingale Pritchard-Barrett who had died in 1900. Sir Nevill's only son and heir, Ronald Vernon Gunter was born 8 March 1904. By her former marriage, Lady Gunter had two sons, one of these, John Oscar Pritchard Barrett was killed in action 15 June 1915 at Givenchy.  
At the 1911 England Census that family lived at Colleton House and included his sister in law and their five servants: nursery governess for his 7 year old son, butler, lady's maid, house maid and hall-boy.
Sir Nevill served as a Lieutenant Colonel (graded as a Staff Lieutenant, 1st Class) in the 3rd (Special Reserve) Battalion of the Yorkshire Regiment (Army List for January 1915 dated 8 August 1912). This battalion never served overseas and provided coastal defence duties around the Tees Bay area. Sir Robert was employed on 'Special Duty' in Flanders at the time of his death.
A newspaper article in Sept 1917 states the unfortunate circumstances surrounding his death:
'That he was thrown from his horse by the bursting of a shell, on or about the 8th of August. He was removed to hospital suffering from concussion, from which, later, he appeared to be recovering nicely. On the evening of the 15th he retired to bed, bidding his batman "Good-night," but on the latter going to call him next morning he found Sir Nevill in an unconscious condition. He at once called the hospital doctor, but death took place about five minutes later, and was attributed to a clot of blood on the brain.'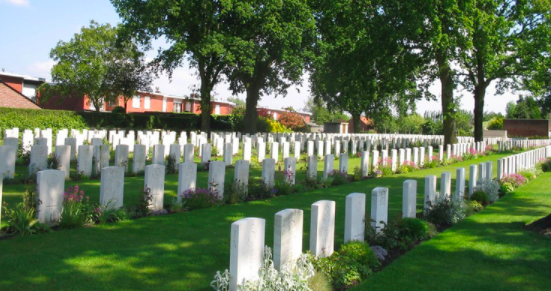 Sir Robert is buried in Poperinge New Military Cemetery, Poperinghe, West Vlaanderen, Belgium
Lt Colonel Sir Robert Benyon Nevill Gunter
16 August 1917
Sources: Census Returns. 
Images courtesy: Commonwealth War Graves Commission,  Wetherby War Memorial, Ancestry and British Newspaper Archive, Illustrated London News 23 September 1905.