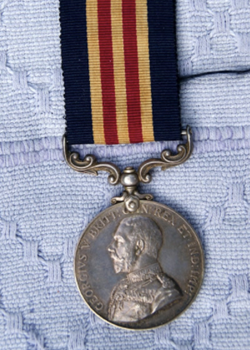 James Joynt was born in Derby in January 1882.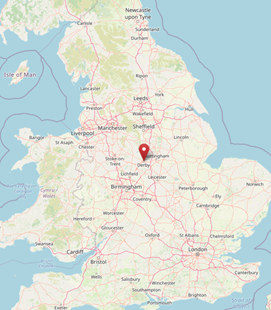 James, the second child of William (an Irishman for Limerick) and Ellen (from Gosport) was born in Derby in January 1882. He had an older sister who would have been 6 or 7 years old at the time. Younger brothers Richard and Dudley were born respectively in 1888 and 1894.
By the the time of the 1891 Census, 9 year old James was living at 22 Milton St, Derby with his parents and five siblings: Ellen (16), William (15), Annie (12), Agnes (10) and Richard (2). While by the time of the 1901 Census, 19 year old James was living at home with three younger siblings, and a visitor with a 2 month old baby. His sister Agnes had died a few years earlier age 18.
In April 1910 James married Kate Ellen Johnson. The following January they had a daughter Violet May: she was a month old at the time of the 1911 Census. James, now age 29, is described in the Census as a 'Labourer' who worked on 'Carriages and Wagons'. In September 1912 they had a son, James, though he died a year and a half later in April 1914.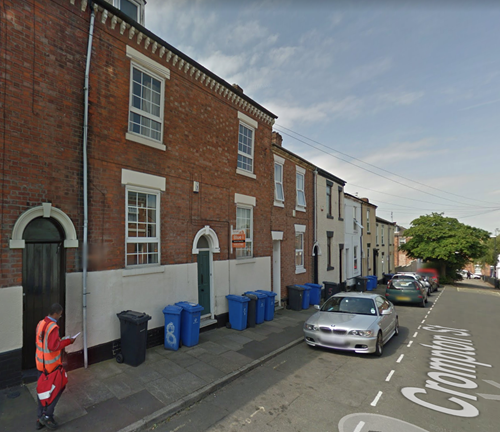 By August 1914, James, now 32 years old, appears to have enlisted straight away in Sheffield; as a 'retired soldier' he was apparently mobilised quickly. The 2nd Battalion was part of the 18th Brigade in 6th Division and moved to Cambridge. On 11 September 1914 they landed at St Nazaire. On 27 October 1915 the battalion transferred to 71st Brigade in the same Division, the 6th.
James served with the 2nd Battalion throughout 1915, then through 1916 until his death in October 1916.
His award of the Military Medal was recognised in the London Gazette at the end of January 1917 (22 January), for actions or behaviour deserving of such recognition, likely to have taken place around the time of his death three months before. With no service record, letters home or diary extant, it is impossible to know during which action, or for what in particular, he received the Military Medal.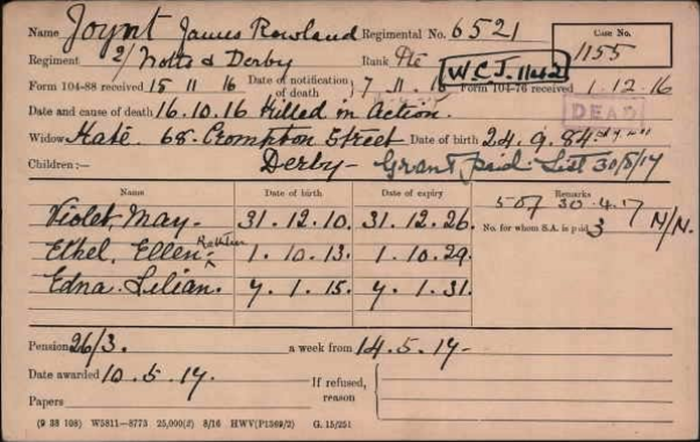 Pte Joynt died 16 October 1916. He is recorded as killed in action on 16 October. Though with 71 Brigade, 6th Division involved in capturing gun pits in front of their position, Cloudy Trench, before dawn on the previous day, the 15th, it is possible he was severely wounded and later died, or that having been missing, the 16th rather than the 15th was recorded as his date of death.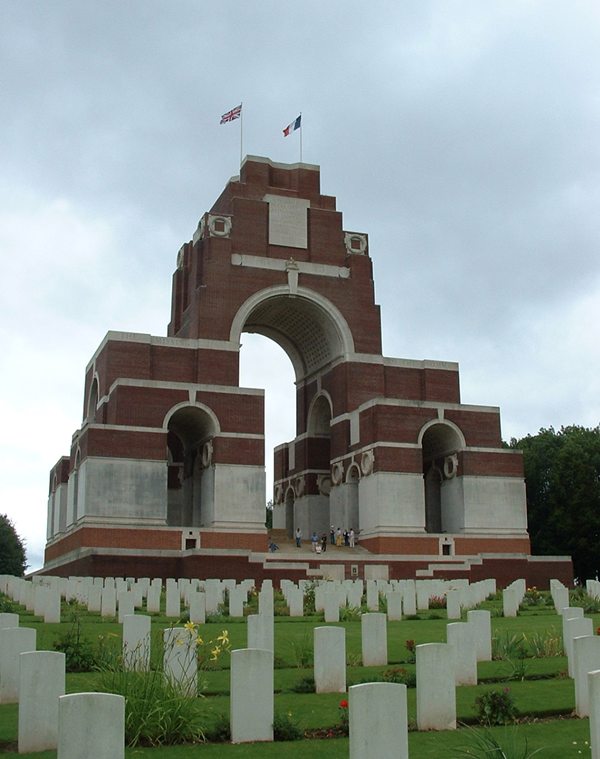 His body was never recovered. He is remembered on the Thiepval Memorial.
His medals, the 1915 Star, British and Victory Medals, were sent in the early 1920s to his father, James.
6521 Pte James Roland Joynt 2nd Battalion Notts and Derby (Sherwood Foresters) Regiment
Sources:
Commonwealth War Graves Commission
1891 England Census
1901 England Census
1911 England Census
Joynt Family Tree (Public Access) ancestry.co.uk (accessed 16 October 2016)
UK, Soldiers Died in the Great War, 1914-19
Sherwood Foresters (Nottinghamshire & Derbyshire Regiment) The Long, Long Trail (accessed 16 October 2016
How to research an award of the Military Medal. The Long, Long Trail. Military Medal. (accessed 16 October 2016)
Supplement to the London Gazette, 22 January 1917 p.832 Award of the Military Medal.
Reference
The Somme. The Day by Day Account. Chris McCarthy (1993) p.137