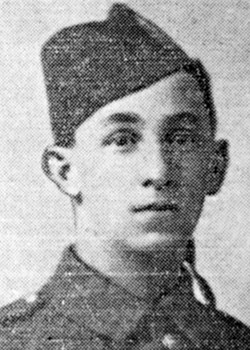 Willie Nettleton was born in Ossett, Yorkshire 15 July 1891.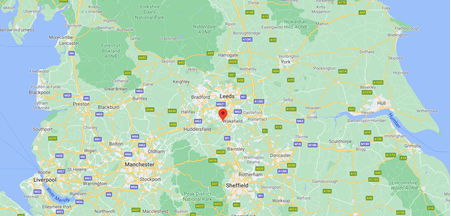 The eight child of Robert (a woollen cloth binder) and mother Elizabeth 'Betsy' née Roling.
Willie was a shop assistant (Boarders) and then a hairdresser before the war.
At the 1901 England Census the parents, their 10 children and a grandchild, lived at 13, Ventor Cottages, Back Lane, Ossett - a three roomed dwelling. All those over the age of 13 worked, with four of children working in a cotton mill, while 19 year old Oliver was a miner (below ground).
At the 1911 Census, Willie (age 19) and 4 of his siblings Arthur (26), George (21), Alice (16) and John (13) and his nephew Ernest (11) are living at home with their parents Robert (an out of work millhand) and Betsy at 13 Ventnor Cottage, Back Lane, Ossett - a dwelling with two rooms accommodating '8 persons'.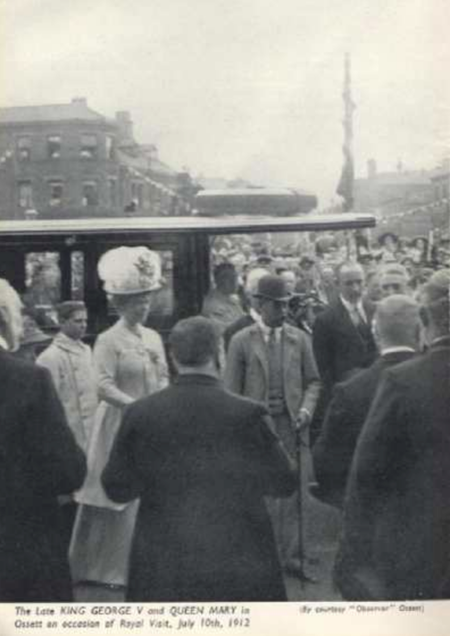 In early 1916 Willie enlisted and joined the Queen's Own Cameron Highlanders. He left for France in July 1916.
On 11 August 1916 he was part of a draft of 65 men from the base depot in Étaples sent to join the 1st Cameron Highlanders in front line action.
He was killed as a result of German shelling on 17 August 1916. His body was never recovered.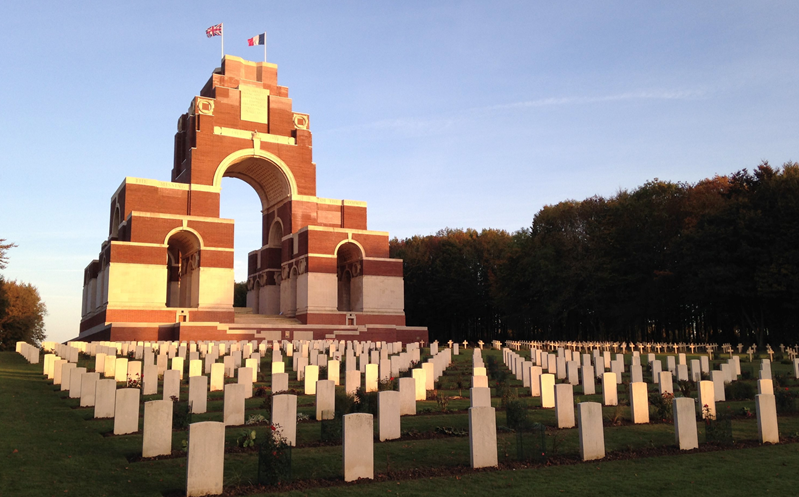 Willie Nettleton is remembered at the Thiepval Memorial.
Of his brothers, the eldest brother Sam was the only one of the six brothers and their nephew not to serve during the Great War - Sam was after all 38 in 1914. Of the others, Oliver served and was discharged with a disability allowance 22 April 1919; Arthur served - had a gun shot to the shoulder and was discharged with a disability allowance on 28 February 1918; George served with the KOYLI and was killed 22 October 1918; John served in the Navy for 6 years and 6 months and was discharged in January 1920 with 'neurasthenia', while nephew Ernest (who was born in 1900 and always lived with the family) served with the DLI and was discharged with a 'debility' (sic) 12 March 1919. 
Initial research into Willie Nettleton by Wilson, Ashby and Howe of 'Ossett Remembered' with additional family and Pension Record research by Jonathan Vernon.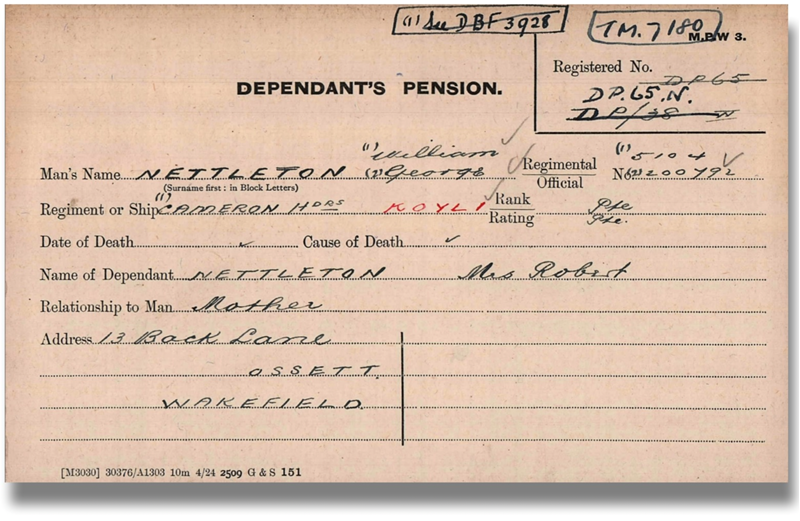 5104 Pte William Nettleton, Cameron Highlanders
17 August 1916 Killed in action 
Sources:
Ossett Remembered. Reproduced here with their kind permission. A fuller account is available on the Ossett Remembered website. (first accessed 7 August 2016)
'Ossett Observer', September 1916
Commonwealth War Graves Commission
England Census 1901, 1911. England Census Summary Books Wm Nettleton; England, Select Births and Christenings. The Western Front Association Pension Ledgers and Cards on Fold3 by Ancestry for brothers Oliver, Arthur, George and John Robert and nephew Ernest.  
Ossett History - https://www.ossett.net/ossett_people.html