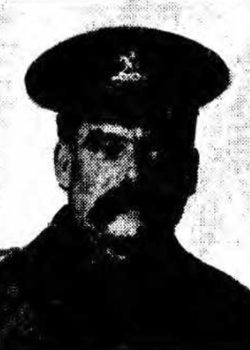 Born Greenwich 8 October 1877
Parents Jonathan (a general labourer) and Sophie (née Mann) 
In 1881, Edward, the youngest of 4 children, lived in Greenwich at 8 Wood Wharf, with his parents and parental grandmother. 
In 1891, now age 14, Edward was working as a general labourer. 
Educated in Greenwich. After school he became a stevedore, unloading and loading boats at the dock. 
He joined the West Kent Militia in 1893 and served for 18 months in Malta. 
In May 1902 he married Sarah (née wood). They had no children. The following year, in May 1903 he obtained his dischared.
He re-enlisted with the outbreak of war on 15 September 1914 and was killed during action on an attack at Hill 60 
Died 18 April 1915. He was 38 years of age.
He is remembered on the Menin Gate, Ypres.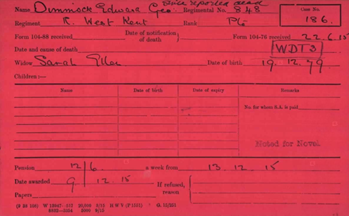 Pte. Edward Dimmock 848 1st Bn 50 Foot The Queen's Own (Royal West Regiment)
18 April 1915 
His wife Sarah remained a widow. In 1919 sh was living at 5 Sexton's Buildings, Greenwich. In 1939 she was living in Greenwich and working as a cleaner for the LCC. 
Sources: De Ruvigny's Vol. iii; Fold3 WFA Pension Records, 1881 and 1891 Census Returns, 1939 Register, CWCG