Fred Hobson was born 23 September 1873 in Norwood, London
He was the son of John Hobson (a stone mason) and Sarah Hobson (née Wallace - Dublin born) then living at 14 Wood St, Pancras. 
With the death of his father and mother when still young, leaving only one surviving sister, Fred joined the British Army and served with the Wiltshire Regiment during the Second Boer War (1899-1902).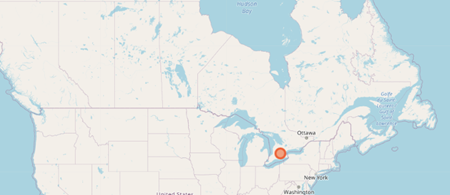 After a few years back in England he then emigrated to Galt, Ontario, Canada on 17 September 1904 (with his wife, children) and sister. He worked as a labourer. 
Come war in Europe in the summer of 1914 Fred was one of the first to enlist in Simcoe. By then he had three children ages 8,6 and 1. 
He joined the Norfolk Rifles, 20th Battalion of the Canadian Expeditionary Force in November 1914. He must have lied about his age, as at 41, he was too old by nine years to enlist. 
Indicating that age should not be a barrier, he went on to be awarded a posthumous Victoria Cross for his heroic action at Hill 70 near Lens in August 1917.
According to the Military Honours and Awards Citation Cards:
He has no known grave.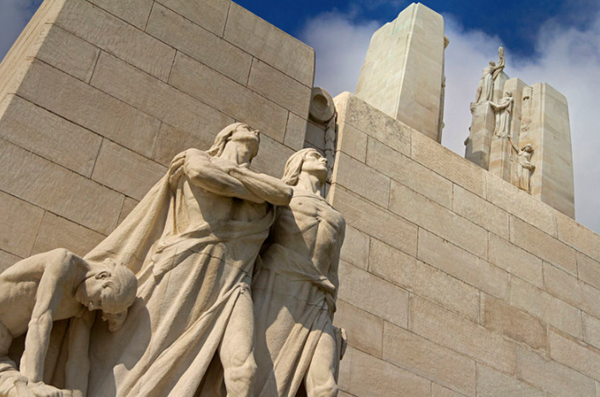 He is commemorated on the Vimy Memorial and on a memorial plaque in Ontario.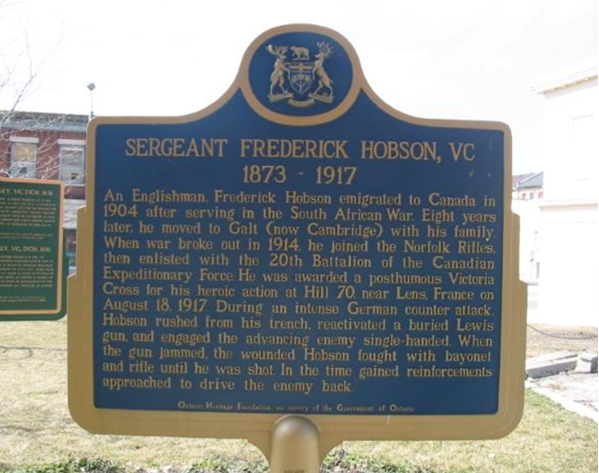 His Victoria Cross and other medals are on display at the Canadian War Museum in Ottawa, Ontario, Canada
57113 Sgt Frederick John Hobson VC
18 August 1917 killed in action.
Sources:
1881 England Census; 1911 Census of Canada; Canada, Military Honours and Awards Citation Cards, 1900-1961, Canada, War Graves Registers (Circumstances of Casualty), 1914-1948; Find a Grave. 
Research by Jonathan Vernon 
Plaque photos by Alan L Brown, posted March 2004 to Ontario's Historical Plaques.