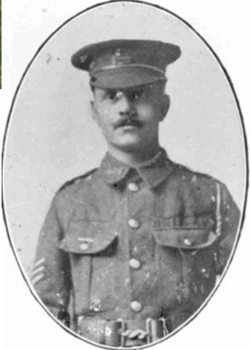 Horace Coe was born in Desborough, Northants 31 December 1886

His parents were William (a bricklayer's labourer) and Clara (née Bosworth). Horace was the youngest of four children (all boys). Their mother Cara died aged 43 in 1891.
By 1901, age 15, Horace was no longer living with his father and brothers.
In 1909 he married Elsie and in October that year they were living at 79 Paddock Lane, Desborough. Horace spent two years in the police force before taking labouring work down the mine at Dinnington Main Colliery. At the time of the 1911 census Elsies was working as a boot machinist in a factory. They went on to have two children: Leslie, born on 29 Nov 1911 and Margaret Ellen, on 21 March 1914 by which time they were living at 3 Clumber Place, Worksop. 
Horace attested 6 August 1914 and was posted on the 29th. At 5ft 8 1/2 he was tall for the times and at 32 just inside the age limit to enlist. Having previously served with the Rifle Brigade he was posted to his regiment on the following day. Within a week he had been promoted to Corporal and by that December to Sergeant. He went out to the Mediterranean with BEF 1 July 1915.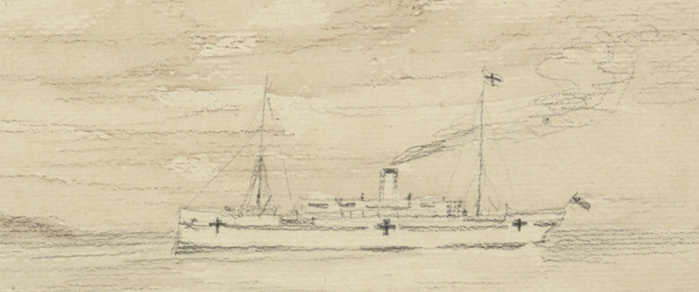 That December, on the 14th, he was 'dangerously wounded' with a gunshot to the left lung. Transferred to HMS Soudan he died of his wounds the following day. At this time of his death Elsie was living at 83 Paddock Lane, Desborough with the young children who were 5 and 1. 
Sergeant Horace Coe 
10513, 6th Bn, Lincolnshire Regiment
Died 18 December 1915
Mrs Elsie Coe was awarded a pension of 18/6d. In 1917 she married Thomas Hudson.
Sources: On This Day, IWM Lives of the First World War,