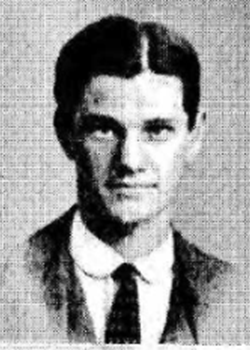 Ernest Markville was born in Peckham, 24 March 1895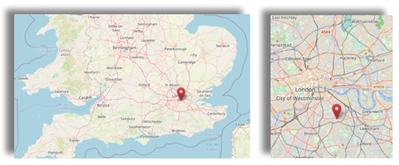 The third child of six of the John Adam Markillie, Mayor of Camberwell in 1907-08 who had fought under Lord Roberts in the Afghan campaign. After the army he became an advertising contractor. He married Julia Frances Markillie (née Morris).
At the 1901 Census six year old Ernest was at home with his parents, older siblings Ruby (14), Maud (12) Edgar (10) and younger siblings Doris (4) and May (2).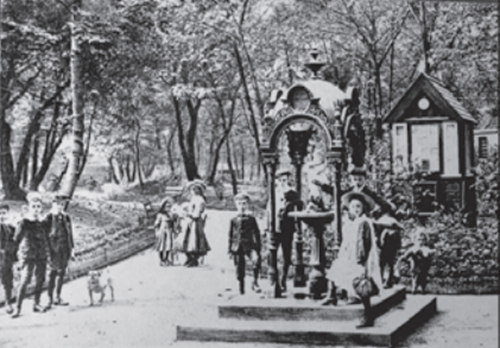 John Markillie died in 1908.
At the 1911 Census the family were living at 85 Norbury Crescent, Melfort Road, Norbury SW and 16 year old Ernest was at home with his widowed mother and older siblings Ruby (24), Maud (22), Edgar (19) and younger siblings Doris (14) and May (11).
Ernest went to Bellingdon Road Higher Grade School and South London School, Camberwell. He was in the first Rugby team and was a 'fine swimmer'.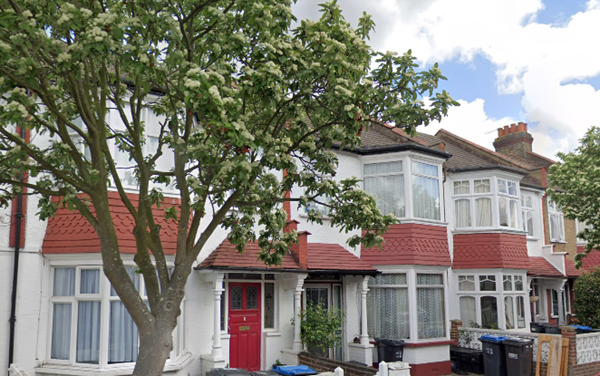 In 1911 age 16 Ernest was living with his five siblings and widowed mother on Dalmeny Rd, Norbury, London SW6 - a four roomed house. 
A clerk in the London County and Midland Bank 1913-14. Ernest volunteered and enlisted on the outbreak of war, September 1914.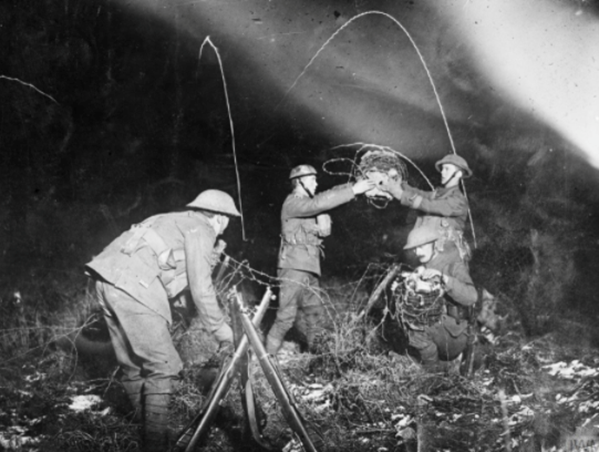 Ernest went to France November 1914. He was fixing barbed wire when in Bailleul when he received a fatal wounded. He died of his wounds at No.2 Clearing Hospital.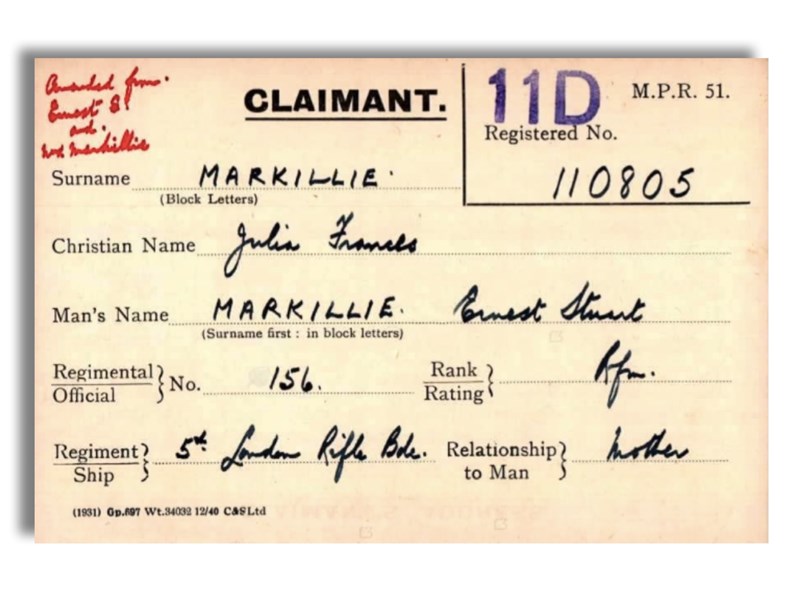 Pte Ernest Stuart Marville, No.156, 5th Bn, London Rifle Brigade. The London Regiment (Territorial Force). His death was reported in the Shoreditch Observer, 5 February 1915. 
KIA 18 Jan 1915.
​​Ernest's older brother Edgar Markillie had emigrated to Australia in 1912. He joined the Australian Expeditionary force and was killed at Gallipoli 9 August 1915. An accountant before the war, he had a reputation as a brilliant sportsman and crack shot.
Research by Jonathan Vernon
Sources: UK, De Ruvigny's Roll of Honour, 1914-1919; England Census Returns 1901, 1911; UK, World War I Pension Ledgers and Index Cards, 1914-1923 in The Western Front Association digital archive on Fold3 by Ancestry; UK, Commonwealth War Graves, 1914-1921 and 1939-1947; History of Brunswick Park; London Wiki; UK, Soldiers Died in the Great War; UK, Army Registers of Soldiers' Effects.