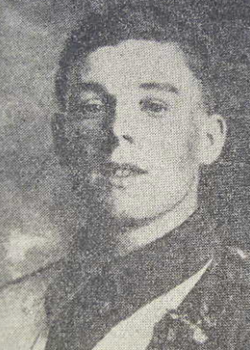 Dennis Cyril Byrne born in Burnley, Lancashire in 1894.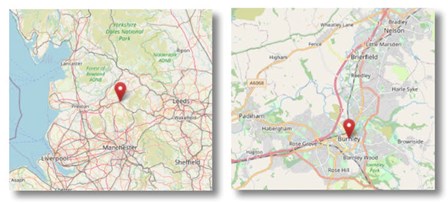 The son of John and Elizabeth Fell. At the 1901 Census the family lived on Vicarage Place, Burnley. Dennis had an older brother John and younger siblings Douglas and Florence.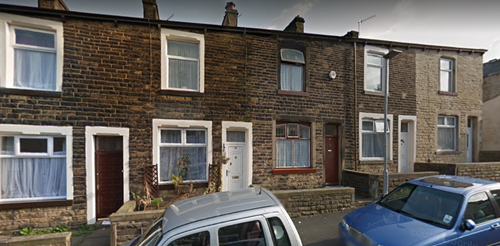 At the 1911 Census the Byrne family were still living in Burnely, now on Napier Street. Dennis had another sister by then, Annie. Cousins Vincent and Reginald (adopted) were also living with them. Age 17 was working as a labourer in a pipe-works while his 13 year old sister and 13 year old cousin were by now working in a cotton mill. 
Dennis enlisted into the 3rd Battalion, East Lancashire Regiment in Burnley in October 1914 and, after training was allocated to the 1st Battalion.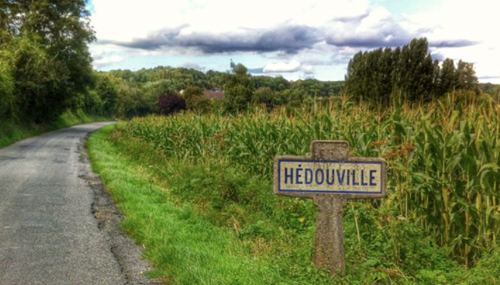 Arriving on the Western Front on 25 October 1915, he joined his battalion at Hédouville, Somme and was soon in the frontline near Mesnil.
Wounded in the arm and leg soon after arrival, Dennis was evacuated to the UK for treatment and after being discharged from hospital in Liverpool in early 1916 was transferred to the 6th Battalion following a period of recuperation.
Sent to his new battalion in Mesopotamia, Dennis was killed in action during operations around Kut on 19 April 1916.

His grave later lost, he is commemorated on the Basra Memorial, Iraq.
Adopted brother (a cousin on his mother's side) Douglas Fell served in the Royal Engineers having enlisted in October 1914. He was invalided out of the war after a disabling shrapnel wound to the thigh having served at Gallipoli and in Egypt.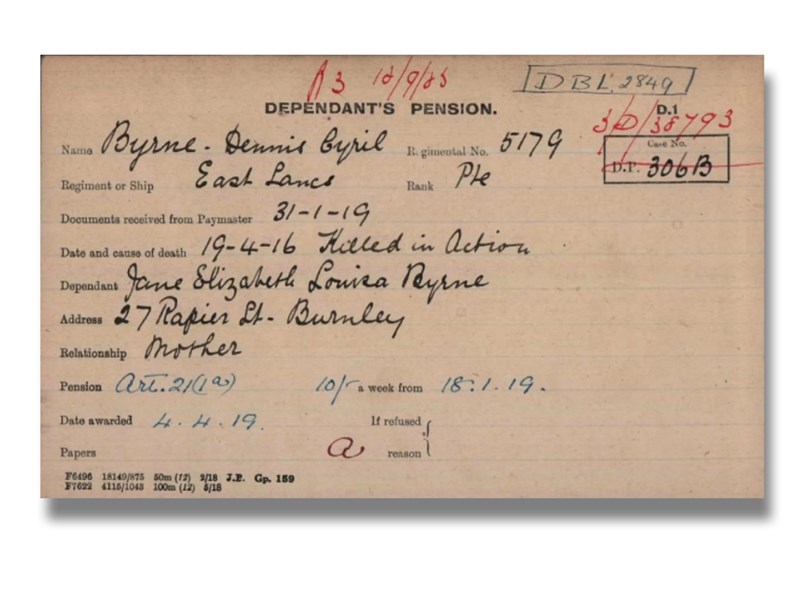 5179 Pte Dennis Cyril Byrne, 6th Bn. East Lancashire Regiment
19 April 1916 killed in action.
Researched by David O'Mara.
References:
Ancestry.com:
British Army WWI Medal Rolls Index Cards, 1914-1920 [database on-line]. Provo, UT, USA:
Ancestry.com Operations Inc, 2008. Original data: Army Medal Office. WWI Medal Index Cards. In the care of The Western Front Association.
English Census 1901, 1911. 
British Army Service Records.  
The Western Front Association Pension Cards and Ledger Archive on Fold3 by Ancestry 
The National Archives of the UK; Kew, Surrey, England; WWI Service Medal and Award Rolls; Class: WO 329
The National Archives of the UK; Kew, Surrey, England; First World War and Army of Occupation War Diaries; Class: WO 95
The History of the East Lancashire Regiment in the Great War- Maj.Gen Nicholson (ed) Pub. 1935
The Burnley Express 17th June 1916
Commonwealth War Graves Commission (www.cwgc.org )
Soldiers Died in the Great War – HMSO 1921
Greater Burnley Roll of Honour Pub: Burnley 1920