John Berry was born in Clitheroe, Lancashire in the last quarter of 1896.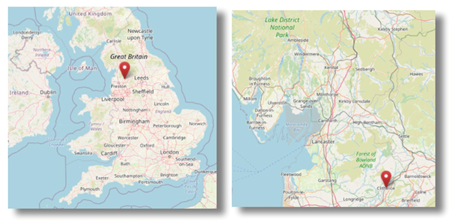 Before the war John, the eldest, assisted his father James who was a butcher. He had four younger brothers James, Robert and Frederick. 
He enlisted in Morecambe and was drafted out to France in May, 1915. 
Exactly a year later sustained a bullet wound in the neck.
He had his first leave at the beginning of 1916, and was invalided back home with septic poisoning at the beginning of 1917.
The 7th Battalion were at Loos (September 1915), the Somme (July to October 1916) Arras (September 1916), Grandcourt (November 1916), Messines (June 1917), and 3rd Ypres (July to November 1917) 
He was in hospital at Newport and afterwards in training at Oswestry.
John returned to France on his 21st birthday, November 8th 1917, having spent his 19th and 20th birthdays in the trenches.
He had only been out in France six weeks when news came of his death from wounds received in action.
He left behind his parents James and Isabella Berry of 7, North Street, Morecambe.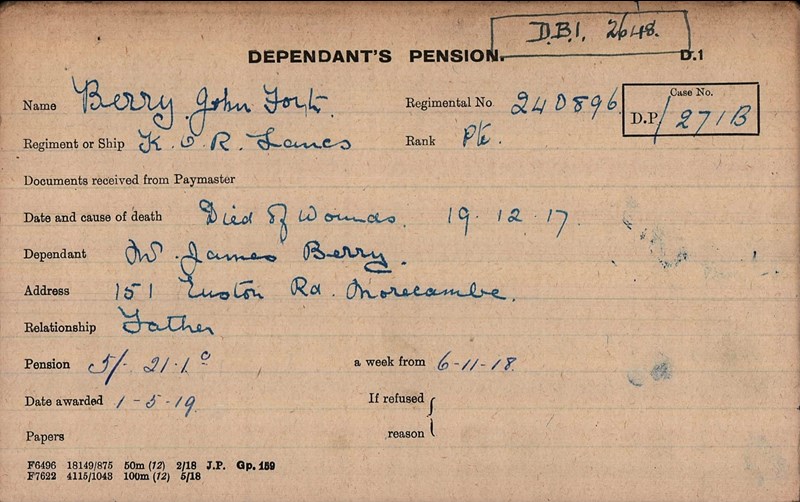 Above: John's Pension Record card, which WFA members can access as part of their membership package. 
240896, Pte. John Fort Berry, 19th (Western) Division, 7th (Service) Battalion, Kings Own (Royal Lancaster Regiment)
19 December 1917 died of his wounds
REFERENCE
Craven Herald http://www.cpgw.org.uk/soldier-records/john-fort-berry/, accessed 11 November 2015. 
Royal Lancashire Regiment mobilisation 1914  
King's Own Regimental Museum Lancaster