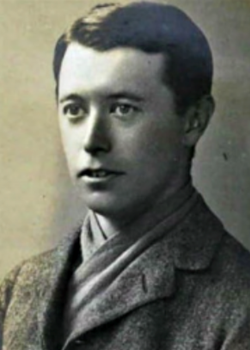 Born 9 July 1885 in India
Whilst researching Dorset War Memorials, the author came across the following paragraph:
'In the grounds of the camp (1) at Osmington is a small wooden sentry box. Inside is a truncated propeller, cut to form a cross. On the boss is a small plaque which reads: 'In memory of Brigadier G S Sheppard DSO, MC and RFC Jan 1918'.' (2)
Living near the village of Osmington, he went in search of the brigadier.
His father was a High Court Judge in India 
Gordon Shephard was born 9 July 1885 in India, where his father Sir Horatio Shephard was a High Court Judge in Madras. In 1901 the Shephard family returned to Britain in 1901 and lived in London. Gordon went to Eton College where he was criticised for being too relaxed in his attitude to discipline. Later a fellow officer described him as 'the least military man he had ever met'. Attending Sandhurst in 1903, he was gazetted as a second lieutenant to a regular army battalion of the Royal Fusiliers on 28 January 1905.
Leisure Sailing along the German Coast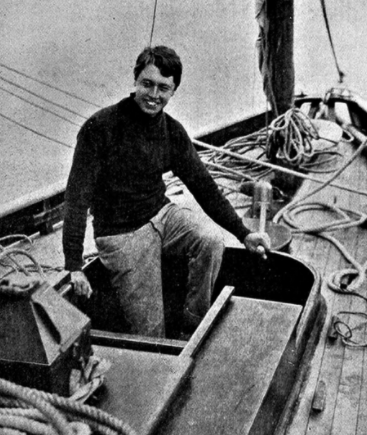 Gordon combined his military career with his passion for sailing – he was a pre–war member of the Royal Cruising Club – and in 1911 he and a companion were arrested by the German authorities at Emden whilst photographing installations on the German coast; he spoke fluent German. They were held for three days on spying charges but released. (3) Gordon only avoided causing an international incident when he sailed his yacht full of intelligence regarding German coastal installations into Dutch waters.
Gordon learned to fly at his own expense, being awarded Royal Aero Club certificate 215 at Brooklands on 14 May 1912. He joined the Royal Flying Corps (RFC) in 1912.
Gun running to Ireland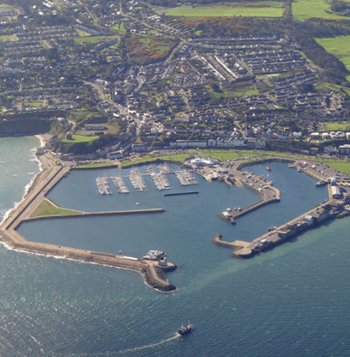 He had become friends with Erskine Childers in 1909 and in July 1914, from the yacht Asgard, he assisted Childers in landing guns in Ireland for the (Nationalist) Southern Irish Volunteers. (4) When the gun running proposal came in May 1914 Gordon did not appear to have hesitated at all in volunteering to go along. Gordon had a liberal frame of mind and he was – like Childers– a strong supporter of the Home Rule movement. So, when it was proposed to smuggle a consignment of 1,500 German guns into Ireland aboard two yachts – Erskine and Molly Childers' Asgard and the Kelpie under Conor O'Brien – in response to the importation into the north in April 1914 of 24,000 German guns by the anti–Home Rule Ulster Volunteer Force, Gordon was very much involved. Gordon – who insisted on being called by the alias 'Mr Gordon' during the trip –played a key role in the actual landing of the guns at Howth (Dublin Bay). He was one of the few who knew the details of Childers' berthing plans. (5)
Early days of the Royal Flying Corps in France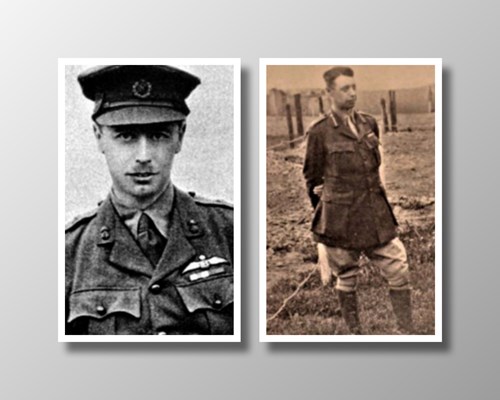 The coming of the Great War saved Shephard from serious trouble. He flew a BE2 to France with the original RFC contingent. On 13 August 1914, he was flight commander of 4 Squadron, carrying out aerial photographic sorties for the BEF. On 22 August, he landed at Beaumont, about 12 miles east of Maubeuge for petrol and received first–hand accounts of the French cavalry falling back from the Sambre Canal. On 24 August he and his observer, Lieutenant I M Bonham–Carter, gathered conclusive evidence that von Kluck's right wing would swamp the British Army unless retreat was continued. The intelligence was passed to the British High Command. On 4 November 1914 he narrowly escaped disaster when his BE2b came under fire. He led 6 Squadron equipped with Bristol Fighter aircraft through the battles of 1915, returning to the UK to take over Eight Wing RFC as a lieutenant colonel. During the first part of the war he pioneered the RFC artillery co–operation role. Popular fascination with the lives – and deaths – of the fighter 'aces' has disguised the importance of the RFC's role in reconnaissance, artillery spotting and counter battery work, far and away its most important tasks during the war. Sir Frederick Sykes considered Shephard to be the finest reconnaissance officer in the RFC
Senior command 
In early 1916 he took command of 12 Corps RFC, which consisted of Nos. 8, 12, and 13 squadrons. In January 1917 Shephard took command of 111 Brigade RFC and, in February 1917, 1 Brigade with the rank of temporary brigadier general. At the age of 31 Shephard was one of the youngest brigadier generals in the army (The RFC was still under the aegis of the army until the formation of the Royal Air Force on 1 April 1918). The war took a severe toll on him: comparing a photograph from 1911 of the youthful 25–year–old sailing enthusiast with that of him as a brigadier general six years later is illuminating. He appears to be at least 25 years older! Shephard was very much a 'hands on' senior officer and was well known for flying his Nieuport Scout over enemy lines to observe the situation for himself. In addition, he frequently visited the front–line squadrons under his command. 
A fatal flying accident 
On 19 January 1918, Shephard took off from Bruay aerodrome at 11.05 am in his Nieuport Scout No. B3106 on a flight to visit some of his squadrons in the Nord Pas de Calais and just 10 minutes later his aircraft went into a spin and crashed into the ground on the edge of the airfield at Auchel. He was taken to hospital but died of his injuries.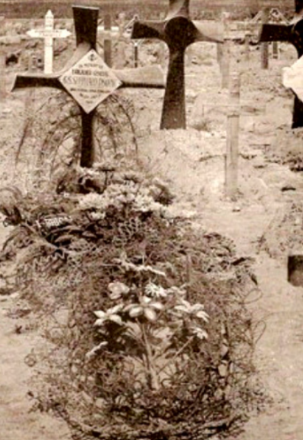 Shephard was buried two days later on 21 January. Authors Frank Davies and Graham Maddocks noted that the Assistant Adjutant and Quarter Master General of the 1st Canadian Division, recorded the funeral thus: 'Brigadier General Sheppard [sic] … was buried at Lozinghem … The firing party with bugles and pipes was furnished by the 16th Battalion Canadian Scottish and turned out very smart. The whole funeral rites were impressive. General Sheppard was very popular in the Canadian Corps and it was understood by those who read The Riddle of the Sands that he was the hero of this tale.' (6)
There are a number of theories as to why Shephard crashed, however, Sholto Douglas (later Marshal of the Royal Air Force) who served under him and thought highly of him, said in his book Years of Combat: 'Although he was not a good pilot, Gordon Shephard's mind was of a brilliance that would have undoubtedly have led to his becoming in time one of the great leaders in the Air Force; but that poor flying of his brought about his death in an accident before the end of the war, and so his name came to play only a minor role in the history of flying.' (7)
Lapugnoy Military Cemetery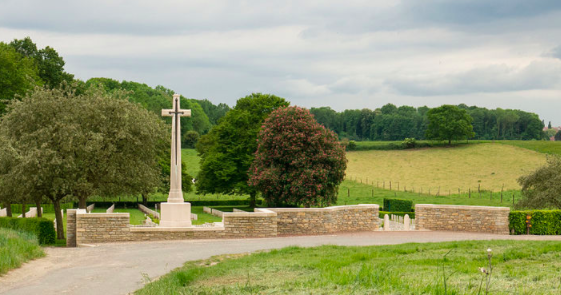 His body lies today in Lapugnoy Military Cemetery 6km west of Béthune (grave VI.B.15). His headstone bears the inscription: 'In A Short Space He Fulfilled A Long Time Wisdom. IV.14 R.I.P.' He was the highest–ranking casualty in the RFC during the Great War. A private memorial was erected on his grave (a battlefield cross), identical to that described above. It was replaced by a standard world war pattern headstone in the early 1920s and the original somehow came to Osmington, Dorset where it seems he had no personal connection. However, after some research the author found that Shephard's uncle, Lieutenant Colonel Charles Sinclair Shephard DSO 1848–1930 (late the Royal Fusiliers), lived at Shortlake House in the village. It is now part of the PGL (Young People's Adventure) camp, probably the site of the memorial. Charles Shephard had a long and distinguished career in India, Burma, the Zulu War and the Great War. He is commemorated in Osmington Church along with his son Lieutenant Commander Harding Lilford Shephard RN who was lost at sea off Northern Ireland aboard HMS Viknor in 1915 possibly as a result of being mined. It is known that the German surface raider and minelayer Berlin laid 200 mines off Tory Island Northern Ireland on 23 October 1914. Could this vessel have been responsible? Gordon Shephard perhaps visited his uncle in Dorset from time to time, hence the connection to Osmington. The question is where is the memorial now? The staff at PGL remember the memorial and that it was removed – sometime in 2010 – and believe it is in the possession of an Osmington resident. Unfortunately, the author has been unable to locate the current location of the memorial. Even residents who had been in the village for many years were unable to help, and it may be that it has been acquired by a collector. Hopefully it will emerge someday. 
This article by Trevor Lindley is a much revised and extended version of that which appeared in issue 18 of The Dugout (2019), the newsletter of the Wessex branch of The Western Front Association. 
References 
(1) Currently a PGL Young Peoples' Adventure Camp. Prior to D–Day in 1944 it was the base of the US Army 1120 Engineer Group. Subsequently it became a Pontins Holiday Camp. 
(2) Muriel Monk, 10,000 Fallen Remembered on Dorset War Memorials, (2000). Note the mis–spelling of the surname. 'Shephard' was the correct spelling') 
(3) John M Bourne, Who's Who in World War One, (Routledge: 2001). 
(4) Erskine Childers wrote the well–known spy novel Riddle of the Sands. There is speculation that one of the main characters – Carruthers – was based on Gordon Shephard but as Childers published his novel in 1903, apparently before he had met Shephard for the first time, this is speculation, even though the belief was widespread at the time as evidenced by it being noted in the report of his funeral in the Canadian war diary. Though English by birth, Erskine Childers became an Irish Nationalist. Picking the 'wrong side' in the Irish Civil War, he was tried and executed by the Free State Government by firing squad at Beggars Bush Barracks in Dublin in November 1922. His son Erskine Hamilton Childers became the first (Protestant) President of Ireland 1973–74. 
(5) William M Nixon, HMS Caroline: Shared Belfast Commemoration Expresses New Attitude To World War I In Ireland, 28 May 2016. https://afloat.ie/blogs/ sailing–saturday–with–wm–nixon/ item/32383–hms–caroline–shared–belfast– commemoration–expresses–new–attitude– to–world–war–i–in–ireland. Accessed 14 January 2020. 
(6) Frank Davies and Graham Maddocks Bloody Red Tabs: General Officer Casualties of the Great War 1914–1918, (Pen and Sword: 2014). 
(7) Quoted in Michael O'Connor, Airfields and Airmen: Arras, (Pen and Sword: 2004), p.100.