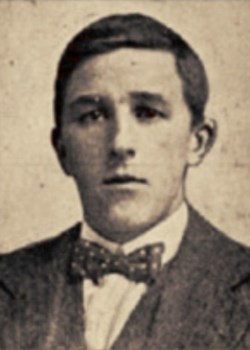 Severely wounded on 20 January 1917, Arthur died the same day
From Earby, Yorkshire, a Wesleyan, Munro Harrison was a weaver at Spring Mill, Earby and lived on Stoneybank Road prior to enlistment.
With his Short Service Attestation and Medical Records extant we learn that Munro enlisted in the 6th Bn Duke of Wellington Regiment on 1 March 1916. He was 21 years and 10 months old and 5ft 6 ¼ inches tall. He'd fractured his left femur in the past. This was considered 'not sufficient to cause rejection'. His physical development was considered 'good'.
During training, Munro was on two occasions punished with '3 days CB' (Confined to Barracks), in the first instance on 25 May 1916 for being 'Dirty on parade' and a week later for 'not complying with an order'.
Munro was inoculated on 16 June and left England via Folkestone on 20 July 1916 and went to the 34th Infantry Base Depot, Etaples,
On 9 September 1916 Munro transferred to the 5th Bn Duke of Wellington's (West Riding) Regimen, 49th (West Riding) Division. 
In November 1916, now in Etaples, he was treated over several days for a 'carbuncle on the neck'.  Then from 25 December 1916 to 8 January 1917 he was once again
Severely wounded on January 20th 1917, Arthur died whilst in the care of a Field Ambulance near Humbercamps, Pas de Calais. He had been in the Army a little over 55 weeks, spending the first 21 weeks of this in training.
Munro Harrison now lies buried in Humbercamps Communal Cemetery Extension. He was 22 years of age.
From the Pension Ledgers and Index Cards saved by The Western Front Association we learn that at the time of his death, Munro's brother 772132 Norman Harrison of the RFA, a prisoner of war, had died on 25 March 1916.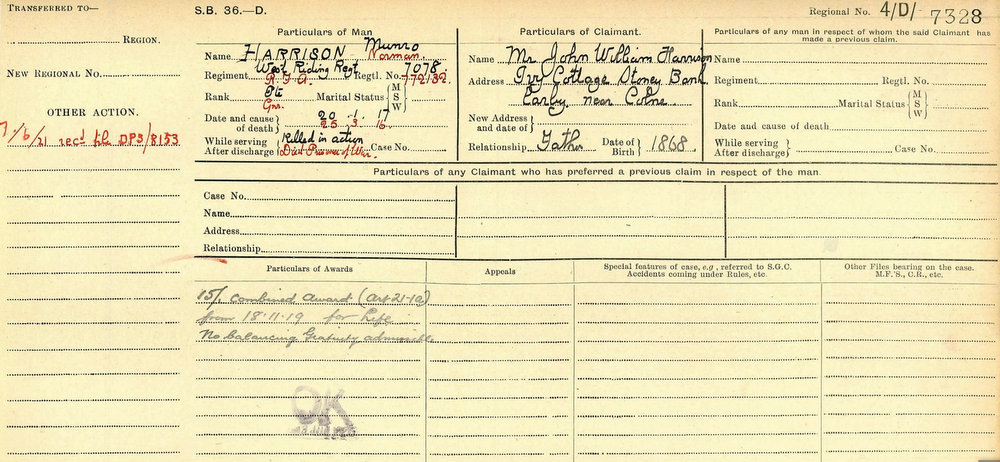 Their parents John William Harrison and Elizabeth lived at Ivy Cottage, Stoney Bank, Earby, nr Colne. 
KIA 20 January 1917
Initial research by David O'Mara since supported by records on Ancestry and Fold3. 
Members have access for FREE to the Pension Records digitised on Fold3. To learn more CLICK HERE > Ancestry Pension Records