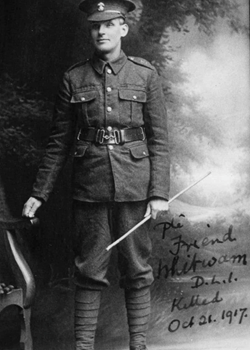 Friend Whitwam was born in Mirfield 19 May 1876 to parents Zachariah and Mary Whitwam of Snake Hill.
Zachariah Friend was a card dealer at a woollen mill. Friend was baptised 25 April 1877.
Friend had two sisters, Clara and Sarah. At the time of the 1901 Census, Friend lived with his parents and younger sister Sarah at 126 George Street. Both Friend and Sarah worked in a woollen mill, Friend as a cloth finisher.

Later that year, on 2 November 1901, Friend, now 34, married Annie Newhill at Wellington Road Chapel, Dewsbury. They lived at 11 William Street, Ravensthorpe. Friend was a regular attendee at the Primitive Methodist Chapel, where he had been a member of the choir for twenty years. By the time of the April 1911 census, Friend, still working for a woollen manufacturer, was working as a machine minder. The couple lived in a 3 room apartment on Armitage Street, Ravensthorpe later moving to 11 William Street, Ravensthorpe. 
At the time of enlistment, on 11th December 1915, Friend's papers indicate that he was 5' 9" tall and weighed just less than 10 stones with a chest measurement of 37" fully expanded; he stated his occupation as being a yeast dealer. 
Friend was called up on 12th September 1916 and was at first sent to the 2/4th Battalion Northumberland Fusiliers, a training battalion based at York, although the battalion moved in November 1916 to Clevedon in Somerset.
On 16th June 1917 Friend arrived in France and was sent to the training camp at Etaples. 
On 1st July 1917 Friend was ordered to join the 13th Battalion Durham Light Infantry (68 Brigade, 23rd Division). He arrived at the battalion's headquarters on 4th July and was posted to 'A' Company; it is likely that he took part in the Battle of the Menin Road Ridge on 20th September.
On 18th October, the 13th D.L.I. was ordered from the camp at Railway Dugouts (south of Ypres) to the front line at Reutel, east of Polygon Wood. The battalion's War Diary for 21st October indicates that although it was fairly quiet during the day, in the evening the Germans shelled the positions quiet heavily, the casualties being thirteen men killed plus a further thirteen wounded. One of those killed was Friend Whitwam.
His wife, Annie Whitwam received a telegram on Saturday 3rd November informing her of her husband's death. A letter came a few days later from an army chaplain in which Annie was told that Friend had been killed by a shell and had died without suffering, being buried about five miles east of Ypres.
If Friend was indeed buried, his grave was not found after the war and he is now commemorated, along with twelve of the thirteen men from the battalion who were killed on 21st October, on the Tyne Cot Memorial to the Missing. Annie never remarried. She died age 60 in August 1937.
245205 Pte Friend Whitwam, 13th Bn, Durham Light Infantry, killed in action 21 October 1917.
Research by David Tattersfield and featured in his book 'A Village Goes to war. A history of the men of Ravensthorpe who fell in the Great War'.