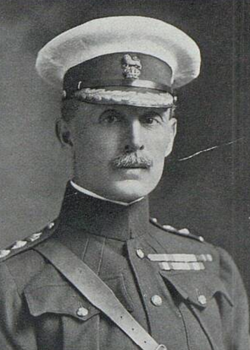 Edward was born at Purbrook, Hampshire 13 December 1861
Parents General Sir John William Collman Williams and mothers Georgina Isabella (née Ingouville)
He was commissioned as a second lieutenant in the East Kent Regiment from the militia in April 1881. He served in the Sudan Expedition (1884-5) and the Nile Expedition (1898-9) in Egypt and Khartoum and then served during the Second Boer War 1899 to 1902 or 'South African Campaign'  he took part in the relief of Ladysmith and action at Spion Kop  -during which time his brother George was killed. 
He changed his name to Ingouville-Williams in 1902 in memory of his late mother. 
From 1903 he was in India.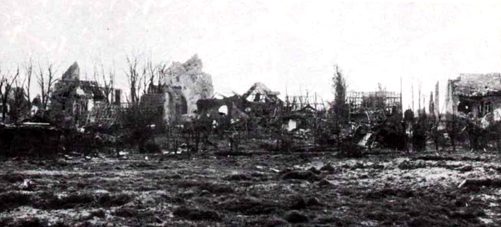 In 1914 Brigadier General Edward Ingouville-Williams went to France on 9 September 1914 as a commander of 16 Infantry Brigade (6th Division) which first saw action in the First Battle of Ypres as part of III Corps.
Ingouville-Williams was promoted to Major-General, in June 1915, when he took command of the newly formed 34th Division, which he took to the front in January 1916.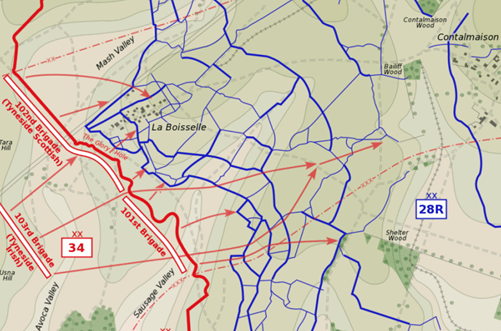 The Division lost heavily on 1 July 1916 when it attacked at La Boiselle. The Division was in the fighting line until 19 July when it was withdrawn.
He paid the following tribute to his division:
" My men did glorious deeds. Never have I seen men go through such a hell of a barrage of artillery. They advanced as on parade, and never flinched. I can't speak too highly of them. They earned a great record. But, alas, at a great cost. I am very sad at losing all my brave fellows, but so glad that their grand work is appreciated by the Corps Commander, Army Commander and Sir Douglas Haig. My brave men had to face a long advance to reach their objective ... They did their duty nobly. Never shall I cease singing the praises of my men, and I shall never have the same grand men to deal with again. I think they have done their part well, and their attack made all the subsequent success possible."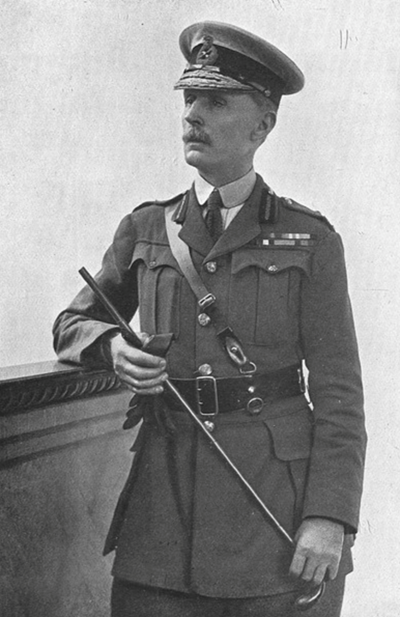 On 22 July Major-General Ingouville-Williams went with his ADC to the Bois-de-Mametz to make a personal reconnaissance of the ground where he was to take his Division into action the following week, south-west of Mametz Wood. After walking back from Contalmaison around the south side of the wood to meet his car, which was at Montauban, he was caught in an artillery barrage.
He was hit by a piece of shrapnel which killed him instantly. He was 54 years of age.
He left an estate of the value of £21,218. There are no indications that he ever married. He had been mentioned in despatches eight times for services in various campaigns. 
Major-General Ingouville-Williams (known as "Inky Bill" to his troops) C.B., D.S.O. 
22 July 1916 killed in an artillery barrage.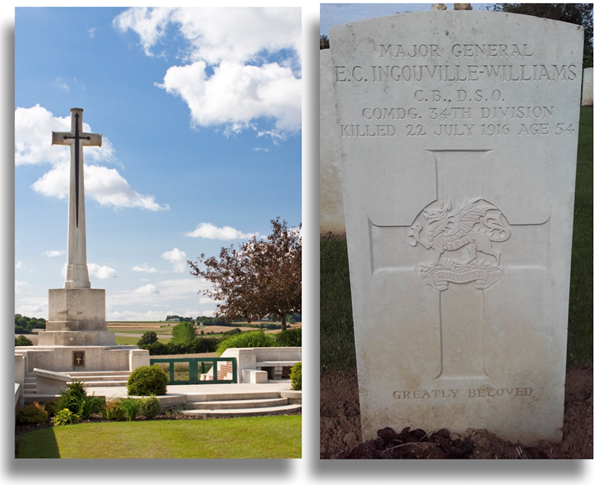 Major-General Edward Charles Ingouville-Williams, C.B., D.S.O. is buried, beside his men, in Warloy-Baillon Communal Cemetery Extension.
Research by David Tattersfield, WFA Development Trustee
Additional sources: Wikipedia, Edward Ingouville-Williams, 1911 Census Records, British Newspaper Archive - The Sphere 5 August 1916, The Scotsman, 27 July 1916, The Broad Arrow : The Naval & Military Gazette 29 November 1916.