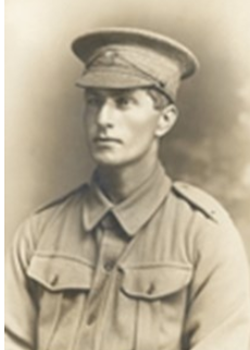 Allan Edwards was a sheep shearer before the war
Pte Allan Parish Edwards MM (4343) was a 32 years when he enlisted in the 13th Reinforcements to the 3rd Battalion on 28 September 1915. 
On arrival in Egypt in early 1916 he spent some time in hospital before being moved to England, where he spent some time in the AIF Cyclist Training Battalion before joining the 2nd Battalion in October. 
In May 1917 he suffered a gunshot wound in his right elbow and was out of action until late June, after which he was transferred to the 1st Brigade Headquarters as a Storeman.  On 23 October Pte Edwards was awarded the Military Medal, the citation:
For conspicuous bravery and devotion to duty during operations east of Ypres from 29th Sept. to 5th Oct. 1917.  Private Edwards although as Brigade Battle Dump Storeman volunteered for, and guided, different carrying parties continuously for seven days over the morass between Brigade Dump and Westhoek Ridge, and Brigade Battle Dump immediately behind the front line.  His zeal and untiring efforts were in great part responsible for keeping full the Brigade Battle Dump, which contributed to the success of the operation.
On 22 June 1918 he re-joined the 2nd Battalion, but was killed in action later that day.
Unusually, as well as the town war memorial, each of the 10 men from the town of South West Rock, New South Wales, Australia, are remembered by individual roadside 'headstone' like markers. Their story is told here > http://bit.ly/SWRocksWW1