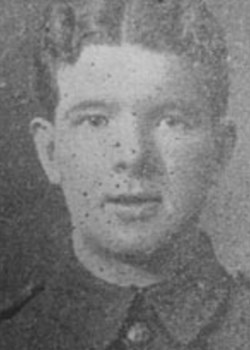 Alexander was born in Burnley, Lancashire in 1890.
Before the war Alexander worked at West's Mill, Harle Syke but had enlisted into the 3rd East Lancs at Blackburn in 1911 and was in camp at Workington when news of the outbreak of war came through. Immediately mobilised into service, he arrived in France on 26 August 1914 and joined the 1st Bn East Lancs during the retreat from Mons.
After serving through the Battles of the Marne and the Aisne, he was wounded in action during 2nd Battle of Ypres and invalided home. After recovering in hospital in Sheffield, he returned to the front, this time with the 2nd Battalion, with whom he served through the Battle of the Somme and then at the Third Battle of Ypres.
His remains never having been suitably identified, Alexander's name now appears on the Tyne Cot Memorial.
The value of the WFA's pension records can be seen from the image below - this tells us that he had two brothers, both of whom were also killed in the Great War. 
The McNab family lost three sons during the war.  Chronologically these were Andrew on 8 November 1916 (2nd Battalion East Lancs), Alexander, as detailed above on 22 November 1917 (also 2nd East Lancs) and John on 25 March 1918 (1/6th Manchester Regiment). What is remarkable - although possibly not unique - is that none of the three brothers have known graves. Andrew is commemorated on the Thiepval Memorial to the Missing, Alexander is named at Tyne Cot and John's name is listed on the panels at the Arras Memorial to the Missing. 
Without access to the pension records, unravelling the story of these three brothers would not have been possible.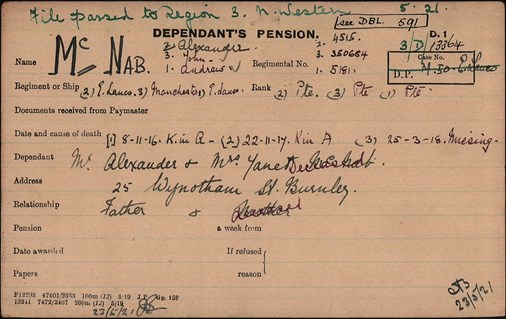 5181 Pte Alexander McNab, 2nd Bn East Lancashire Regt
22 November 1917
Research by David O'Mara