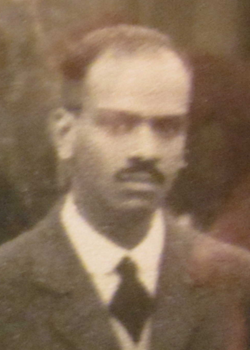 Born 27 December 1883 Lucknow Uttar Pradesh.
Son of Raja Sir Harman Singh K.C.I.E. Prisicilla Golaknath. One of 11 children. 
Educated at school in the Punjab, India, ten Pembroke College, Cambridge and King's College London gaining BA and medical qualifications. 
Commissioned in the Indian Medical Service 28 Jan 1911. And became a M.R.C.P. 
London 1912. Capt. 28 Jan 1914. 
Lived in Feriby Lodge, Ramsgate and The Manor, Simlar West, India. 
Killed when the house used as the combined dressing station of the 57th Rifles and 129th Baluchis took a direct hit. Only 1500 yds from the front line. Working parties made desperate efforts to reach those who had been buried. Hit again as soon as clearance work begun, the body of Capt Singh was only recovered the following day.
Captain Kunwar Indrejit Singh was awarded the Military Cross posthumously 1 Jan 1915.
Buried Bethune Town Cemetery 
Research by Jonathan Vernon 

Source: The Indian Corps in France, Merewether and Smyth. p.136. Roll of Indian Medical Service, 1615-1930.  Western Mail, 2 December 1914