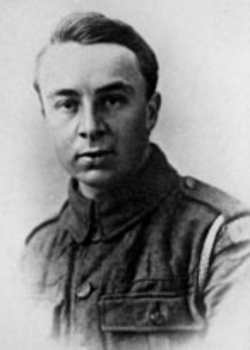 Willie Allott was born in Dewsbury 23 July 1894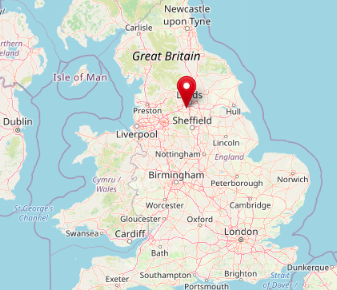 His parents were James (a blacksmith at the colliery) and Emma Allott who lived at 4 Church Street, Ravensthorpe. He was baptised 17 Aug 1894. He was the oldest of the six children.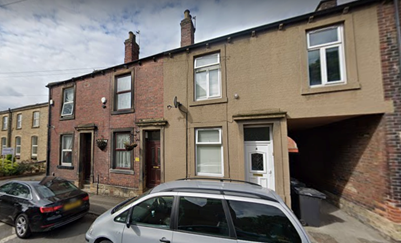 Age 16 at the 1911 Census Willie was working at the woollen mill in Thornhill Lees. 
After originally being drafted into the KOYLI, it was with the King's Royal Rifle Corps that he was probably sent to the Western Front, joining the 18th Battalion of the regiment, part of the 41st Division.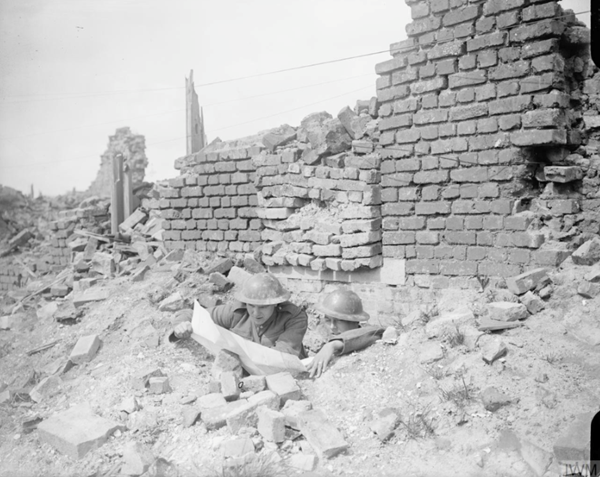 The 18th KRRC's War Diary describes how the battalion moved up to the front line, south of Ypres on 22 August 1918; there was little activity on this day and the next, except for a small amount of German shelling. On Saturday, 24 August, however, a heavy German barrage commenced at 3.45am; an hour later the Germans attacked. It seems that the British front line was not held in strength, instead there was a series of posts, each probably manned by a platoon or section; these posts were numbered. The War Diary states:
...the enemy attacked from number 3 post to number 8 post inclusive, number 4 post was thought to have been taken but was later found to be intact. Number 5 post was lost, also number 6. Number 7 post was obscure, no one knowing anything about it......Casualties two officers and six other ranks killed; twelve other ranks wounded; seven other ranks missing.
The War Diary continues:
At 11.15pm four fighting patrols of one platoon each were directed against numbers 4, 5, 6 and 7 posts. 4 and 7 were reached and found to be occupied by our troops. The platoon against number 6 found the post occupied by the enemy and after some bombing and rifle fire entered the post. The platoon against number 5 failed to make any progress through Clydesdale Camp and dug in on the line of the light railway. Casualties one other rank killed, two other ranks wounded.
Although the War Diary indicates two officers and seven men were killed on 24 August, the fatalities were slightly higher as a result of some of the injured men dying of their wounds.
Soldiers Died in the Great War states:
24 August - 1 officer kia plus 6 other ranks kia and 5 other ranks died of wounds; 

25 August - 1 other rank died of wounds
One of the men to die from wounds was Willie Allott. His mother Emmas was his sole legatee. 
Of the fourteen men and two officers to be killed in the period from 22 to 25 August, twelve (including both of the officers) are buried in Lijssenthoek Military Cemetery; of these, six (including Willie) are buried together in one row.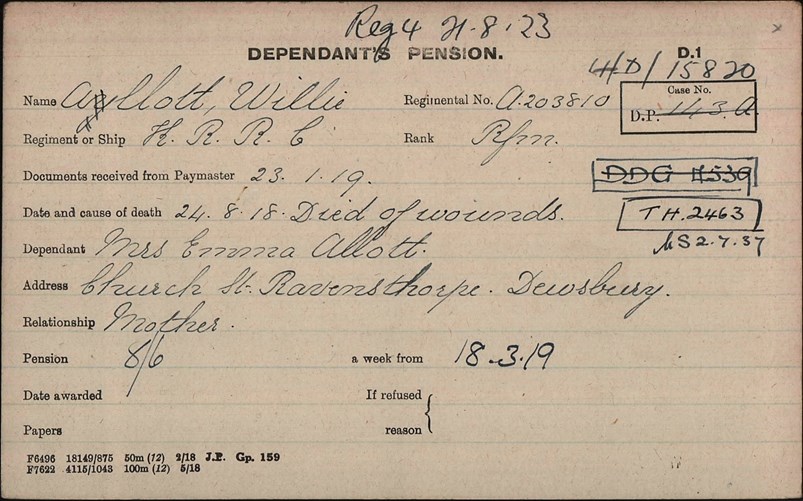 Pte Willie Allott 18th Battalion, King's Royal Rifle Corps
24 August 1918
Died of his wounds
Research by David Tattersfield
Sources: England Census 1901, 1911; 
Reference: A Village Goes to War : A History of the Men of Ravensthorpe who Fell in the Great War by David Tattersfield.