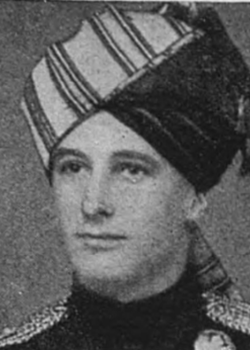 Born 3 November 1876, Bombay
Parents Colonel Alister Jamieson and mother Geraldine (née). Educated in turn at Cheltenham College, Dulwich College (1888) and then to Heidelberg before returning to England and the Royal Military Academy, Woolwich. He passed out in September 1896 and joined the Royal Artillery. Three years later he was promoted to Lieutenant. He was assigned to the Indian Army in 1901 attached to the 16th Cavalry and promoted to Captain in 1905 and attached to the Camel Corps. 
He married Ruth (née Cobbold), and they had two children, Frances and Alister who lived at Alton House, Ross, Hereford and Worceseter. 
In 1908 he transferred to the 9th Bhopal Infantry. Shortly before the war he was promoted to Major and as part of the 1st Indian Army sent to Europe. 
While in France he was wounded and invalided out for a while. Then in late 1915 he rejoined his regiment in Egypt, and proceeded with them to Mesopotamia shortly afterwards. In January 1916 he was again severely wounded and invalided out to India where he died 24 February 1916. 
Orders received at 11.00am after the attack had begun. As it was the best he could do was to detach as many men as possible to help the Sappers and Miners who were already advancing.  
Known by Willcocks for many years, 'son of a soldier and a descended from a long line of fighting men, he was one of the keenest of officers, always trying to do something to improve the efficiency of his men'. p.68   
24 February 1915 Major G A Jamieson 9th Bhopal Infantry 
Died Bombay, buried Kirkee Cemetery. 
Sources: Dulwich College P68 With the Indians in France, General Sir James Willcocks.