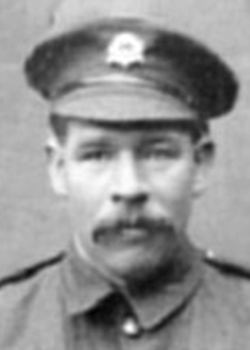 Albert Hart was born in 1882 in Studham, Hertfordshire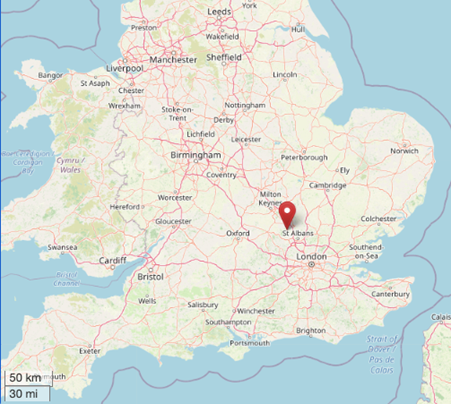 He was the son of Charles (an agricultural labourer) and Anne (a straw platter).
At the 1911 Census Albert, age 28, a married brick-layer's assistant, was living at Byslips Cottages, Byslips Road, Studham with his wife Jane (13 years his senior) her sons Raymond and George, and their own 4 year old son Harold. Later that year their daughter Vida was born. 
Albert enlisted in Hertford. Initially enlisting into the 4th Battalion, he was later transferred to the 1st before finally being transferred once more to the 6th.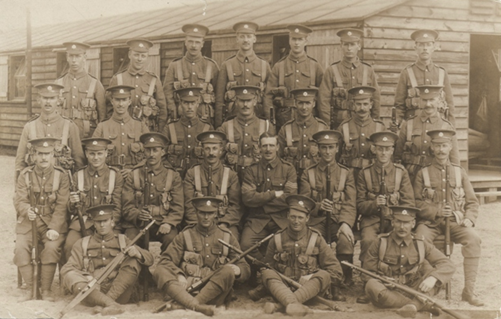 A seasoned soldier by the time of his death, Albert had served in France from 27 April 1915 and had been wounded at least once.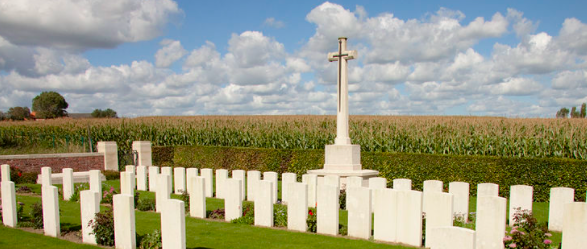 Albert was killed in action by shellfire whilst manning trenches in the southern Ypres Salient on 24 July 1917. Albert is now buried in Cabin Hill Cemetery, Belgium.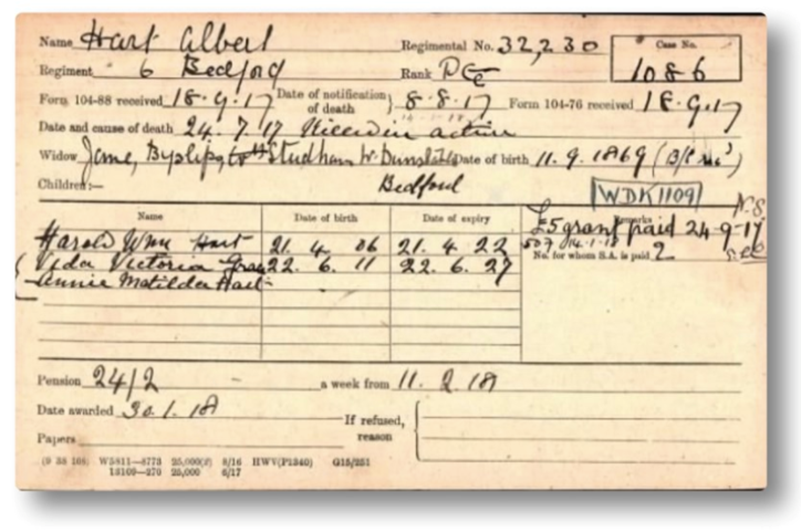 Albert left a wife, Jane and to children Harold, age 10 and Vida, age 6 as well as stepsons Raymond, by then age 26, andGeorge age 23.
32230 Pte Albert Hart, 6th Bn Bedfordshire Regt.
24 July 1917 killed in action
Raymond Rance, Albert's stepson, a groom before the war went to France in August 1915 with 7th Bedfordshire & Hertfordshire Regiment and became a Lance Corporal during his time. He survived the war. 
George Rance, Albert's stepson, a farmhand in Studham then a footman in Luton before the war, enlisted in St.Albans in October 1914 and served as a horse-keeper and driver, at first at home until January 1916 and then in Egypt wit the AVC London Division until discharged in 1919 with a 60% pension due to impaired sight and deafness.
Initial research by David O'Mara with further research by Jonathan Vernon. 
Sources: England Census Return 1911, CWGC, Wikipedia - Cabin Hill Cemetery, Steven Fuller's The Bedfordshire Regiment in the Great War, Census Returns, The Western Front Association Pension Ledgers & Cards digital archive on Fold3 by Ancestry, UK World War I Service Medal and Award Records, UK World War I Medal Rolls, British Army World War I Service Records.