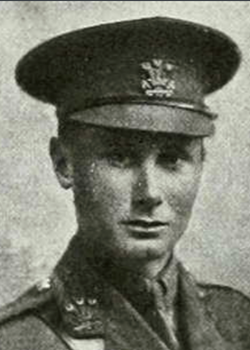 Richard Hemphill was born in Birr, King's County, Ireland on 17 March 1894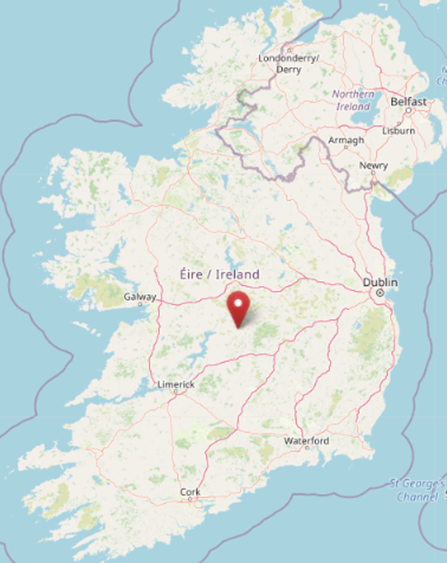 His parents were the Rev, Samuel and Flora (née Delap). The family lived at Townparks, Birr Urban, King's County, Ireland. 
'Pat' as he was known was educated at Chesterfeild School and St Columba's College, Rathfarnham, Dublin and Campbell College, Belfast.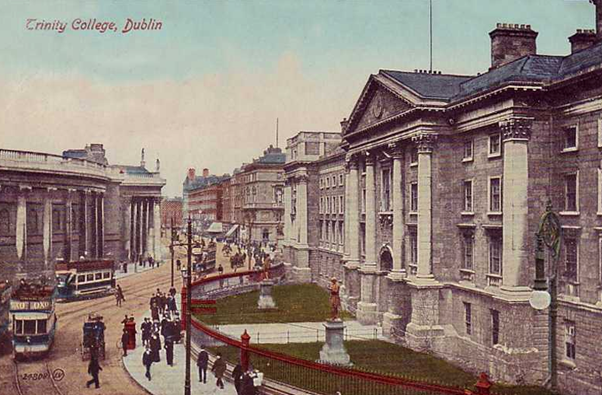 'Pat' was a member of the OTC and a medical student a Trinity College, Dublin. He was an active member of the Student Volunteer Missionary Union and in 1914 volunteered for missionary work.  He was gazetted 2nd Lieut 6th Bn The Leinster Reg 10 December 1914.
Pat served in France from 19 May 1915 (six months) and in Salonika from November 1915 (for over a year) where he was Machine Gun Officer and for a short time in charge of the company.
Having been accepted to train as a pilot, he became attached to the RFC in Egypt in February 1917 and  was accidentally killed at Heliopolis Cairo, 24 March when he fell from his plane. He was buried in Old Cairo Cemetery.
By the end of 1916 one his his four of the family, sister Betty and his two brothers Robert and Alexander were serving 'King and Country'.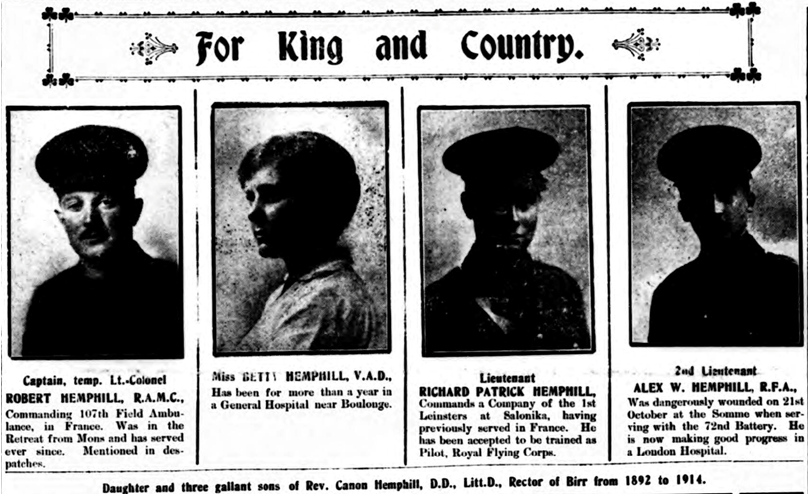 Betty Hemphill was a VAD at the General Hospital, Boulogne. 
Captain. (Temp Lt-Colonel) Robert Hemphill was commanding 107th Field Ambulance, France and had been involved in the Retreat from Mons and brother 2nd Lieut. 
Alex W Hemphill RFA, was recovering in hospital having sustained injuries on the Somme that October. He returned to the front and survived the war staying with the army and rising to the rank of Major. 
6th (Service) Bn The Prince of Wale's Leinster Regiment (Royal Canadians) attached to the RFC.
Died 24 March 1917
Sources: Du Ruvigny's, Irish Records Index, Dublin Daily Express 28 March 1917, The Leinester Reporter 23 December 1916.