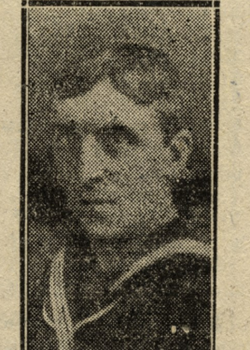 Tommy Egdell was born in Alnwick, Northumberland 27 November 1877
Tommy married Alice before the war they lived in Ashington where Tommy was a miner. 
Tommy enlisted in the Northumberland Fusiliers 2 September 1914. He was transferred to RNVR (Hood Battalion) 7 September 1914 and served in Antwerp then with the Mediterranean Expeditionary Force later serving at Passchendaele.  He was awarded the Distinguished Conduct Medal for action at Grancourt 3-5 February 1917. Tommy was reported as missing in action on 22 September 1917, but it later transpired that wounded, he had been taken prisoner. He died of wounds on 24 September 1917. 
Tommy was one of four sons his family lost. Each of Lance-Corporal Edward Walker Egdell, Corporal John Egdell and Private David James Blythe Egdell also served and died while a younger brother, George William, also served - he was wounded on 26 April 1915.