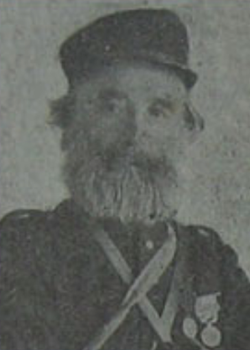 One of the oldest men to be killed in action during the First World War.
Auguste was born at Bordeaux on 4 June 1846. 
A veteran of the Franco-German War of 1870 -71 (where he saw action at Orleans and Le Mans), he was living at 18, Rue Paul Bert, Roanne, Loire by the time of the outbreak of the Great War. Voluntarily enlisting in August 1914, Auguste was sent to the 175 RI with which he was to see service at Gallipoli from May 1915. He was killed by Turkish shelling near Sedd ul Bahr on 25 June 1915 at the age of 69 years and 21 days. Auguste has no known grave.
25 June 1915