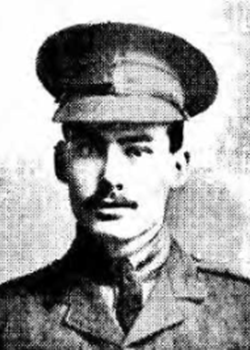 Born 30 October 1893, Darjeeling, Bengal, India
Parents Charles and Alice (née Meade). Charles Odling was the chief engineer for the India Public Works Department. 
At the 1901 Census, age 7, Eric was living with his parents, older sister Winifred and a domestic servent in Frimley, Surrey. 
At the 1911 Census, age 17, Eric was a boarder at school in Cheltenham College. In a sheet of 29 names six boys were born in Inida, several in Ierland, one in the USA and one in Paris). By this time his parents were back in England and living in Wimbledon. 
Eric went straight from school in 1912 to the Royal Military Academy, Woolwich and was gazetted 2nd Lieut. 20 December that year. He was promoted to Lieut. 12 Nov 1914 and appointed in due course to Acting Adjutant to the Signalling Company, at Headquarters. 
He was invalided home in October 1914 but returned to duty in January 1915 joining the Field Company at Givenchy 11 March. 
Killed in action, Festubert 25 March 1915
He is buried in the Gorre British And Indian Cemetery
Sources; De Ruvignys, Census Returns 1901, 1911. IWM Photographic Archive. Wikipaedia.