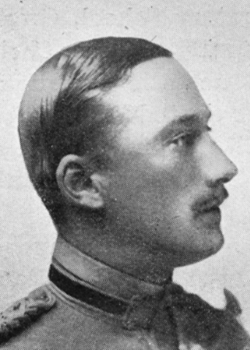 Born in Bath 9 May 1885 
Only son of Col Samuel Henry O'Brien of Eaton Place, Brighton, mother Katherine (née Burton). Grandson of Dr Henry Banks of Wicklow, Ireland. 
Educated at St. Peter's, Weston and Cheltenham College and Sandhurst. 
At Cheltenham he won the schools rackets and fives prizes. He was in the cricket eleven here and at Sandburst and played for the Somerset County eleven. In Lahore he played Polo, in 1913 touring Germany and wining a series of cups. 
Commissioned and left for Indian November 1903 where he was appointed to the Gurkhas. Captain by October 1912
The land was devoid of cover and rose slightly towards the German lines which had a commanding view of the entire area. There was murderous fire which saw the CO and four colleagues severly wounded some yards from the start. 
Captain Banks' Oderly, a Sikh named Bhan Singh who had been with Banks when he was killed, although severely wounded in the face himself, waited for dark and brought his body in. Banks was buried near a farm two miles north east of Ypres.
Hugely admired by his fellow officers and the Indian soldiers in his charge, Banks was killed during the second Battle of Ypres 50 yards from the German lines. 
For his bravery and devotion, Singh was awarded the Indian DSM 
Captain Percy D'Aguilar Banks Queen Victoria's Own Corps of Guides attached to the 57th Wilkes Rifles
Sources: Wicklow Newsletter, 15 May 1915;