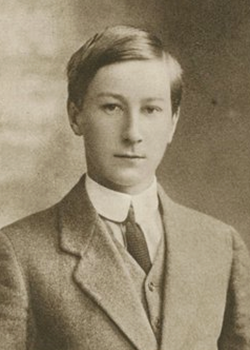 Educated at St. Michael's, Westgate-on-Sea (Prep School), Winchester (Public School) and Christ Church College, Oxford
Robert Cornwallis Maude, 6th Viscount Hawarden was born on 6 September 1890.
He was the son of Robert Henry Maude, 5th Viscount Hawarden and Caroline Anna Mary Ogle.
At the time of the 1901 Census the family of three, parents and 7 month old Robert, lived at White Hill Chase, Hants with four domestic servants: cook, parlour maid, house maid and nurse.
He succeeded to the titles of 6th Viscount Hawarden and 8th Baronet Maude and 6th Baron de Montalt of Hawarden in 1908.
He was educated at St. Michael's, Westgate-on-Sea, Kent (preparatory school), Winchester, and was up at Christ Church College, Oxford from 1908 until 1912, during which time he was a member of the University Contingent of the Officers' Training Corps.
He graduated from Christ Church with a Bachelor of Arts degree before joining the Coldstream Guards on the outbreak of war.
Gazetted 2nd Lieut. Coldstream Guards 3 February 1911 and promoted Lieut. 10 Sept 1913. Served with the Expeditionary Force in France and Flanders from 12 August 1914.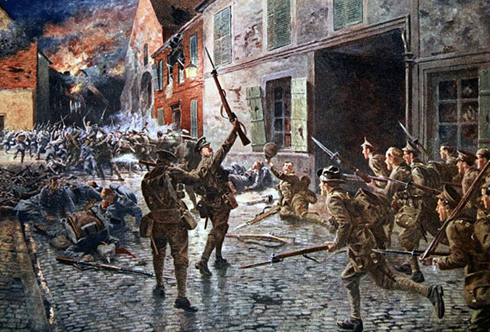 Hawarden died of wounds received in action at Landrecies on the night of the 25th-26th August.
Probate was granted to his mother, The Right Honourable Caroline Anna Mary Viscountess Hawarden. There was a mess bill of 8s 6d and his servant's wages to pay. 
He left over £25,000 in his will.
26 August 1914 killed in action
Research by David Tattersfield and Jonathan Vernon.
Image courtesy: Great War Forum
Text courtesy: Christ Church College, Oxford and UK, De Ruvigny's Roll of Honour, 1914-1919, 1901 Census, UK, Army Registers of Soldiers' Effects, 1901-1929..
Additional photograph of Sir Robert as a boy from Find A Grave.


Painting of the Battle of Landrecies from BritishBattles.com