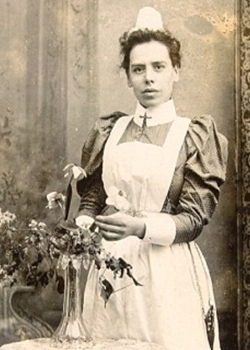 A nurse at Royal Devon and Exeter Hospital.
Miss Katy Beaufoy trained as a nurse at Royal Devon and Exeter Hospital in 1893. Within three years she had attaned the position of Sister in charge of the Operating Theatre and wihtin another thre years she had become the Matron to the 80 bed Exeter Fever Hospital.
She volunteered for the Second Boer War, served as a theatre sister and a nurse tutor in Italy.  In 1908 she applied to join the Princess Christian's Army Nursing Service. In the meantime she had an active nursing career as theatre sister to a private surgeon then as a nurse tutor in Italy training local nurses.
On the 17 August 1914 she volunteered for war service. She was sent to Devonport Military Hospital and then to No 15 General Hospital in the former Abbasieh School at Alexandria. She then nursed aboard the Hospital Ship Dover Castle as Sister and the 29th General Hospital in Malta before being promoted to Matron. Finally, she took up an appointment as Matron to the Hospital Ship Glenart Castle.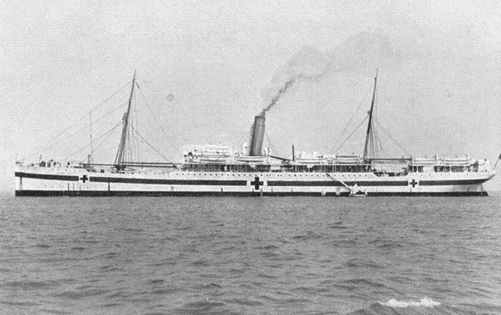 On leaving Bristol on a return journey to France to pick up the wounded, UC56 torpedoed the Glenart Castle which sank within 10 minutes killing the captain, 8 Nurses, 7 Medical officers , 47 Medical orderlies and 99 Patients. Katy Beaufoy was amongst their number. A diarist, her life story has since be published. Matron At War is a warm and insightful story.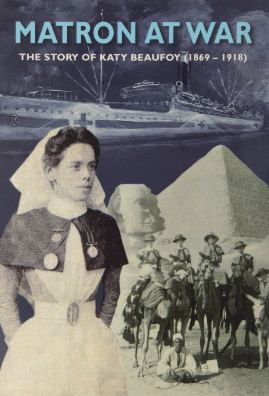 HMHS Glenart Castle  sank at  4:00 am. She recently arrived from the East. She was on her way back to France with a full complement of crew and nurses.  Nine boats were launched, but the ship sank in minutes.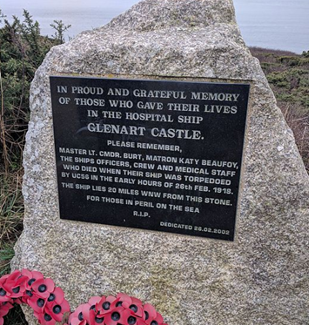 Memorial to those lost on the Hospital Ship Glenart Castle
Sources: Ancestry, Western Times 1 March 1918. The Daily Mirror, 1 March 1918.