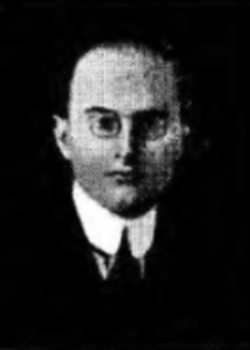 Hugh Ching was born on 25 January 1887 in Brixton, London. 
He was the only son of Richard Ching (a grocer's assistant) of 180, Eswyn Road, Tooting and his wife Annie. 
He was educated at Stockwell School
In 1891, age 4, Hugh was at home with his family, older sisters Mabel (8) and Florence (6) and Aunt Elizabeth Ching (31) on Aytown Road, Brixton 
In 1901, age 14, Hugh was living at home in Brixton, still on Aytown Rd, with his parents, and a lodger (a 31 year old chemist). 
In 1911 Hugh, age 24 was working as and an advertising agent for an Electrical Manufacturer and was living at 48 Victoria Road, Aston, Birmingham in a three roomed apartment with a lodger, an electrical engineer. 
In 1912, age 25, Hugh joined the Queen Victoria's Rifles. Two years later, on 2 May 1914, Hugh married Pollie (née Pimley). They had a son, Robert, though he is not recognised in the Pension Record so had perhaps died.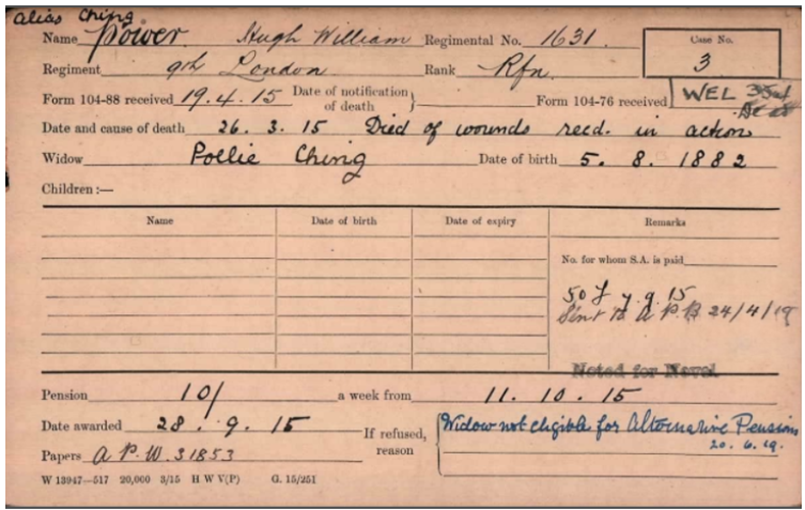 He volunteered under the alias Hugh William Power on the outbreak of war in August 1914 and went to France that October. He was fatally wounded on 24 March 1915 and died two days later.  His parting words to those around him were 'Good Luck'. 
He is buried in Ramparts Cemetery, Lille Gate.
1631 Pte Hugh Ching, 9th Bn Queen Victoria's Rifles The London Regiment
Sources: De Ruvignys', English Census Returns 1901,1911. Findagrave, The Western Front Association Pension Records on Fold3 by Ancestry.