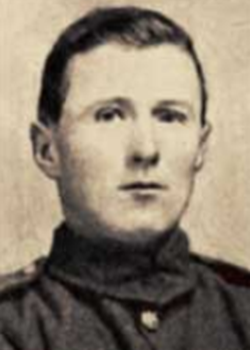 Born 29 April 1894 in Nelson, Lancashire.
James was employed as a weaver at J J Duckworth & Co before joining the army in August 1914.
At the 1901 Census he was living with his grandparents at 126 Vicarage Rd, Thornton and his aunt and uncle and six cousins. His uncle was a builder/contractor, while his cousins from age 13 upwards worked in either the cotton mill or quarry.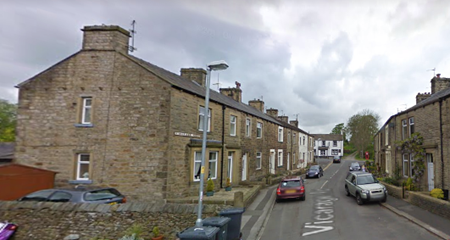 At the time he enlisted in 1914 James was living on Vicarage Road, Kelbrook, nr Colne with three of his cousins. 
James served in the Dardanelles and Egypt before moving to the Western Front in February 1917.
James was wounded in the back and abdomen near Havrincourt on 25 April 1917. Evacuated to a field hospital near Peronne, he died of his wounds in the early hours of 27 April 1917.
James Wormwell is  buried in Peronne Communal Cemetery Extension, France.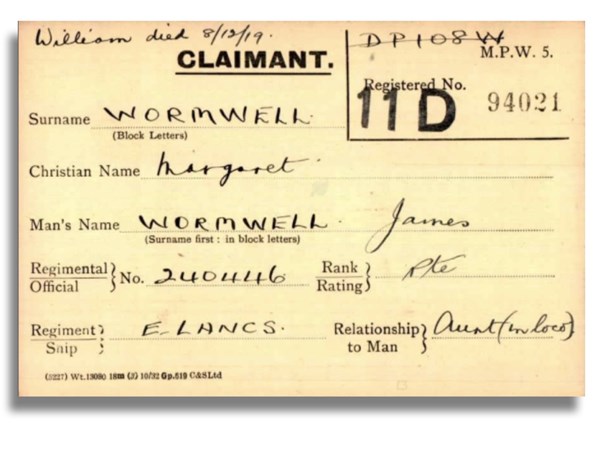 240446 Pte James Wormwell, 1/5th Bn East Lancashire Regt.
27 April 1917
Cousin William died in January 1919 while in the army. 
Research by David O'Mara
Sources: 1901, 1911 England Census, Pension Records and Ledgers from The Western Front Association digital archive on Fold3 by Ancestry.