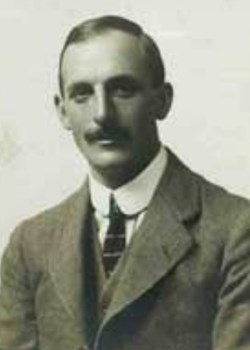 Born Huntingdon Vicarage 21 April 1878
4th son of Rev. John Hart-Dacies and Emily (née Beauclerk) of Southam Rectory, Warwick
Educated at Clifton College, and King's College, Canterbury.
Ivan started his career as a school teacher at New Beacon, Sevenoaks but turned to running a life and motor insurance business setting up an office on Bank Street, Rugby in 1907.
He held the what was known as the 'end-to-end record' between Lands End and John O'Groats for motor cycles and light cars. His record of 29 hours 12 minutes set on a Triumph motorbike still stands as such record attempts were subsequently banned by the A.C.U. In 1913, with three other motorcyclists friends who were travelling in Europe, he won the Murren Cup, though none of the four had done any bobsleighing before. He took to flying before the war as an amateur.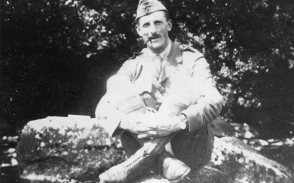 He enlisted in the RFC in 1916 and obtained a commission the same year. 
On the eve of going to the front he took his Bristol aircraft F2B No 7103 up 'for a last look at England'. He crashed on landing and was killed. 
He was buried in the family plot at Southam. 
Lieutenant Ivan Beauclerk Hart-Davies, RFC. 48th Squadron, Royal Flying Corps 
27 July 1917
Sources, De Ruvigny's Vol3., The Times, 7 August 1917, Great War Forum, 1912 Keely's Direcory for Rugby, Grace's Guide.
Photograph courtesy South Wales Section of the Vintage Motor Cycle Club, Google Street View, Rugby 2012; Rugby Remembers entry by J.D.Cooke (1981)