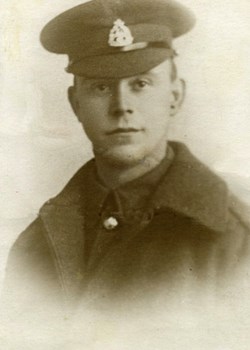 George Collins was born 1 May 1884, Clapham, London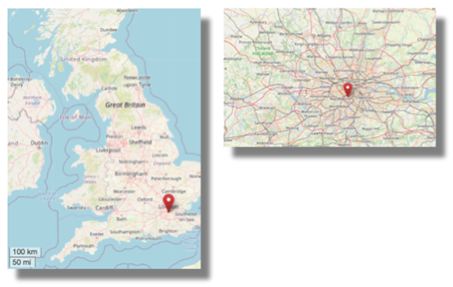 His father James died in 1900, his mother Frances Sophia Collins was from Ireland, died in 1912.
In 1966, I visited for the first time, the grave of my grandfather, George Leonard Collins, in Vailly-sur-Aisne British Cemetery, France.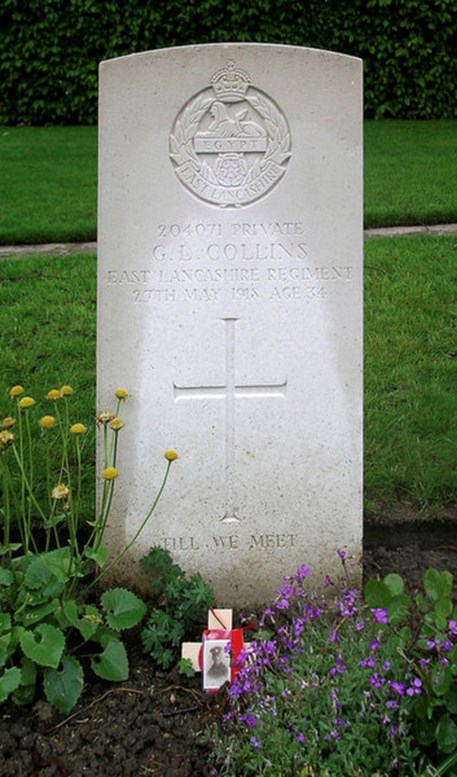 Image: Grave of Private George Leonard Collins 204071 2nd Battalion East Lancashire Regiment in Vailly-sur-Aisne British Cemetery, France.
My grandmother had never been able to make the journey due to ill health. My mother and I eventually found our way to this relatively unknown area of France to pay our respects. That visit affected me so profoundly that it precipitated a lifelong quest to find out more about my grandfather's life and how the war had affected so many other families in the same situation.
My mother knew very little about her father. She knew his birthday (1 May) but not the year, and she did not have a birth certificate for him. She knew nothing about his parents. I found the first piece of information about him in 'Soldiers Died in the Great War' which, in those days, was in book form. That document revealed that George was born in Clapham, London. He later moved to the Manchester area where he enlisted, in Manchester, with the 2nd Battalion East Lancashire Regiment. I subsequently spent many years going through GRO Birth Indexes, trying to find his birth record, hoping that this would give further information about his family. However, it was not until the advent of genealogical databases and much more research that I was able to establish the true facts. George was born on 1 May 1884, but his surname was actually Still (not Collins) and that was the reason that it had taken me so long to find the record of his birth.
George's mother was Frances Sophia Collins and she came from an army family. She was born at Arbour Hill Barracks, in Dublin, in 1859, whilst her father was serving as an Armourer Sergeant with the 2nd Battalion, Scots Fusilier Guards (now Scots Guards). Young George's great uncle William was also an Armourer Sergeant serving with the 1st Battalion Grenadier Guards. Both brothers had learned their trade as Gunmakers at the RSAF in Enfield, home of the Lee Enfield Rifle. Both of these regiments were engaged in duties at the Royal Palaces in London and Windsor. George's own father, James Still, enlisted at the Bury Barracks of the Lancashire Fusiliers on 16 November 1891, after the family moved to Manchester. He died on 16 June 1900, at Fort Pitt Hospital, of pneumonia and exhaustion, whilst serving with the 4th Battalion in Chatham, Kent. George and his mother had used the surname Collins from 1898.
As far as George's early life is concerned, he sang as a choir boy in a local church; he started work as an apprentice gentleman's outfitter (information obtained from the 1901 census) and the 1911 census listed him as a salesman with a publishing company. This was Abel Heywood & Son, of Manchester, and it was here that he met Florence Dewsnup whom he married in 1914. Apparently, he had wanted to start a new life in Canada after his mother died in 1912, and he went out to live there, for a while, but his future wife (Florence) would not agree to join him there and so he returned to England.
He then went to work for Manchester Corporation Tramways Department and he was working there as a tram conductor when the Great War broke out.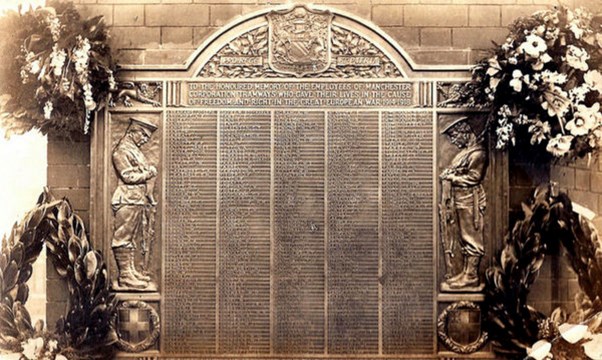 Image: Manchester Corporation Tramways Department Memorial at Princess Road Depot, Manchester, photographed in 1920's. This is now situated at Hyde Road Stagecoach Depot in Manchester.
After his father's death in 1900, George's mother married a German professional musician, Wilhelm Stein, who played the violoncello in the Scottish Orchestra in Glasgow and the Pavilion Gardens Orchestra in Buxton, Derbyshire. A year later, they had a daughter, Frances, who was born in Manchester.
Around that time, there was a thriving German community in Manchester. According to the 1911 census, there were over 1,500 German nationals living in Manchester and Salford. There were German musicians in the Hallé Orchestra and there were German hairdressers and chefs and many other German businesses. Manchester's Midland Hotel had its own German restaurant. There was a Schiller-Anstalt Institute for cultural and social meetings and a German church. Of course, the situation changed almost overnight, in 1914, and against this background and his family loyalties, George Collins later joined the army.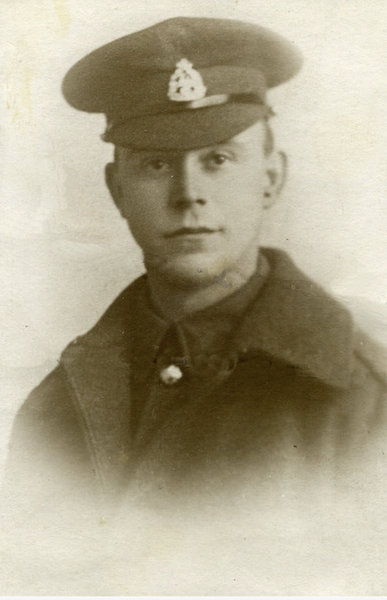 Image: George Leonard Collins in army uniform
During the course of my research, I visited the Duke of Lancaster's Regimental Museum in Preston, Lancashire, in an attempt to gain more information about his enlistment in the 2nd Battalion East Lancashire Regiment. Unfortunately, there were no relevant attestation papers or 'burnt' records and only his medal card survives. However, as his Army number was a six-digit number, I was told that it was likely that he joined up in early 1916. The 2nd Battalion, East Lancashire Regiment, according to the Regimental History, moved to the Vimy Ridge area in March 1916 and then on to Contalmaison, on 6 July, as part of 24th Brigade. In March 1917, they saw action at Bouchavesnes and took part in the battle at Passchendaele Ridge later that year. Early in 1918, they fought on the Somme at the end of March and, in April, were engaged in fighting at Villers Bretonneux.
The battalion was then sent, in May 1918, to the quieter area of the Aisne where there was no immediate or apparent threat. At this point, the battalion, now part of the IX Corps, was under the command of the French Sixth Army. However, in the early morning of 27 May, the Germans unleashed a fierce bombardment (in 'Bruchmüller' fire pattern) at 1.00 am. My grandfather, George Collins, a Lewis gunner, was shot and later died of his wounds. Details of the action are described in extracts from the 2nd Bn, East Lancashire Regimental Diaries given to me by the archivist at the Duke of Lancaster's Regiment, in Preston, Lancashire.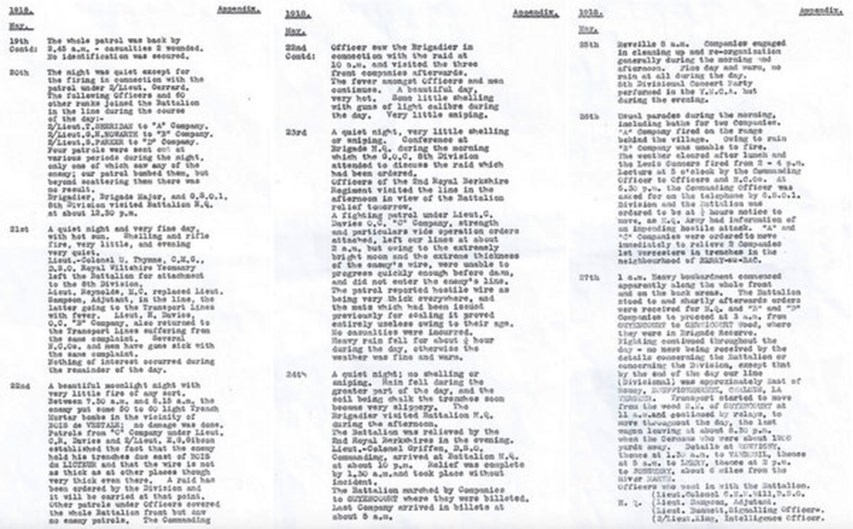 Image: Extracts from the 2nd Bn, East Lancashire regimental diaries courtesy the archivist at the Duke of Lancaster's Regiment in Preston, Lancashire.
I have only recently discovered that George was subsequently taken to Mont Notre Dame casualty clearing station No 37. The British had a small presence with the French l'Hôpital d'Origine d'Évacuation 32 (HOE32) 
Having visited George Collins' grave, in Vailly British Cemetery, in 1966, I already knew that he was buried in a curved line of graves in a part of the cemetery used for burials of soldiers, all of whom were killed in 1918, and who had previously been buried elsewhere in the Aisne area. I recently decided to write to the Commonwealth War Graves Commission to ask if they had any record of his earlier burial place. Interestingly, they told me that he had been buried initially at Mont Notre Dame Military Cemetery which was attached to the casualty clearing station No 37 and they were able to give me the plot number and map reference. At this point, I remembered the excellent articles written by Western Front Association member, Fred Ashmore, about the Aisne. He has researched the Mont Notre Dame casualty clearing station (Stand To, No. 86) and he also wrote an article on his own research into his uncle, Fred Ashmore, called 'Incidents in the Aisne Valley May - August 1918'. As soon as I re-read these articles, I realised that his uncle and my grandfather had very similar experiences during the Third Battle of the Aisne, 1918.
As I have already explained, my mother knew very little about her father's early life, although she did have quite a few photographs taken whilst he was growing up. I have been able to fill in many of the details about his life and recently uncovered more information about his death, thanks to the WFA's Pension Records Cards archive.
On 4 July 1918, Florence, George's wife, placed an advertisement in the Manchester Evening News in a column headed 'The Fallen Brave'. This listed soldiers under the headings 'Fallen Fighters', 'In Hospital' and 'Missing'. George was described as missing since 22 May. The Evening Chronicle also listed him as missing on the same day. Eventually, on 29 October 1918, in a list of 'Fallen Fighters' noted in the Manchester Evening News, it was announced that George had died of wounds on 27 May.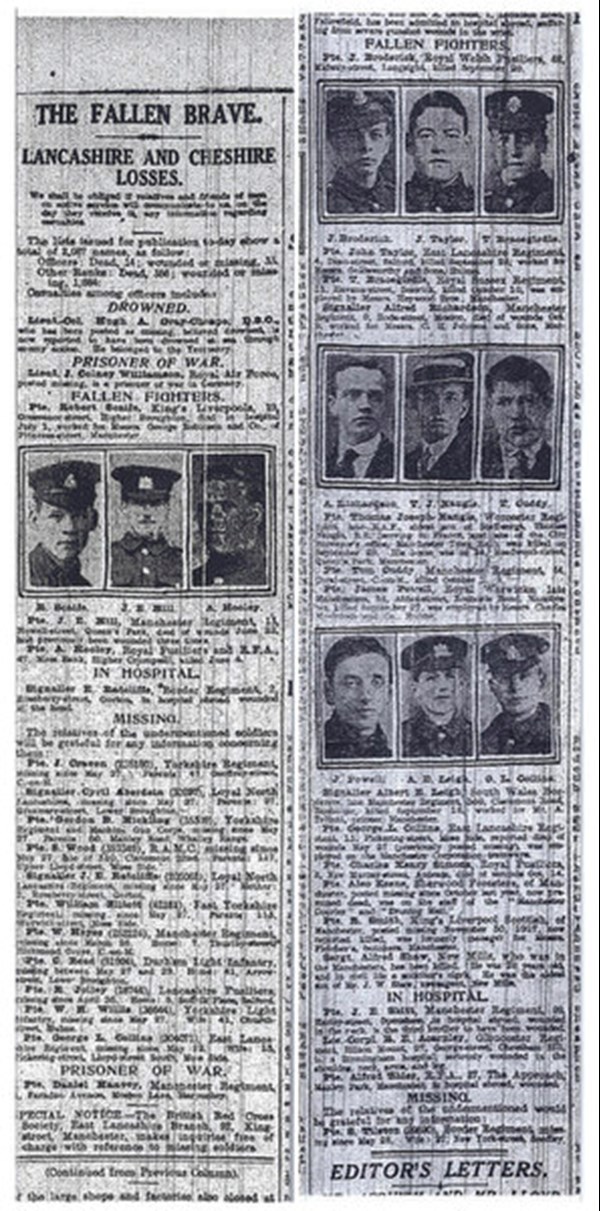 Image: 'The Fallen Brave', 4th July 1918 Manchester Evening News and 'Fallen Fighters', 29th October 1918. Manchester Evening News. Taken from microfilms at Manchester Central Library.
Eventually, George's widow (my grandmother) heard from a German doctor outlining the circumstances of his death and a Jesuit priest was mentioned. However, this document has not survived so this cannot be verified. The Western Front Association's Pension Record Card documents do, however, give information about the date of notification of death and they bring the harsh realities to light.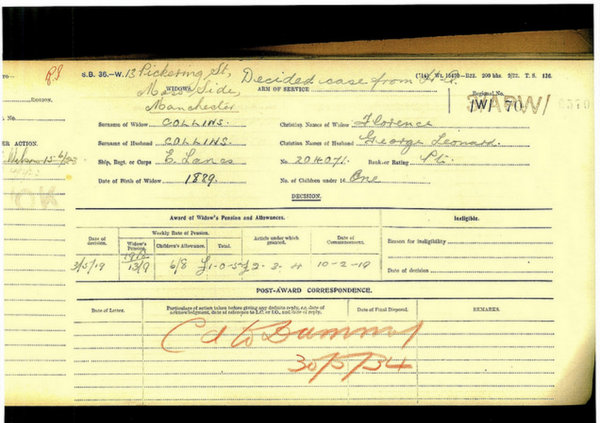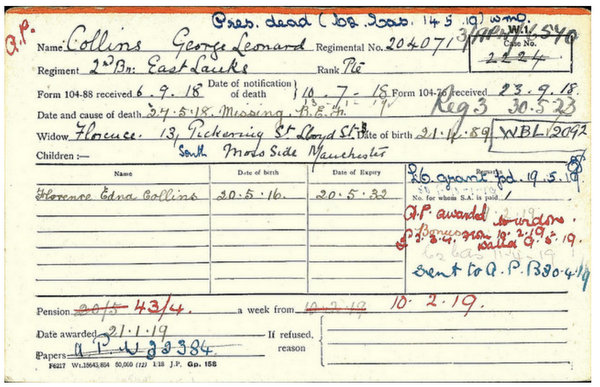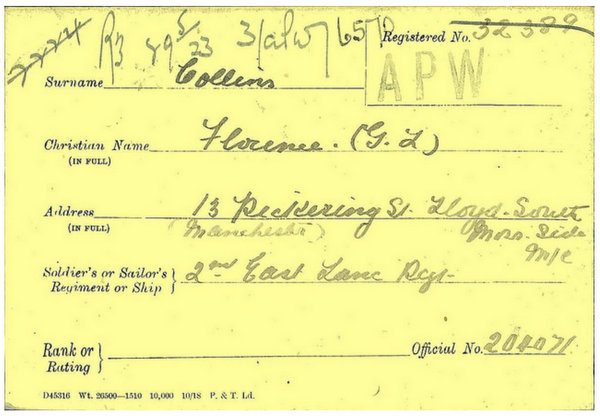 Images: Sourced from The Western Front Association's Pension Records Archive  (pages relating to George Collins). [The Pension Records are currently being digitised for access online]. 
I am grateful to The Western Front Association for giving me the opportunity of telling the story of George Collins. He died without seeing his daughter. In his particular circumstances, having a German stepfather must have made life difficult for him and yet, as he was captured by the Germans, it must have been even more poignant for those left behind. I do know, having researched extensively about the musical career and personal life of George's step-father, Wilhelm Stein, that he and his daughter Frances did everything they could to support George's widow and child. There was a deep mutual affection between them and I do remember my grandmother having a photograph of Wilhelm, his daughter, Frances, and my mother and grandmother, together in Glasgow. She kept it on her bedside table. My only sadness is that my mother died before I could give her more details about her father's life.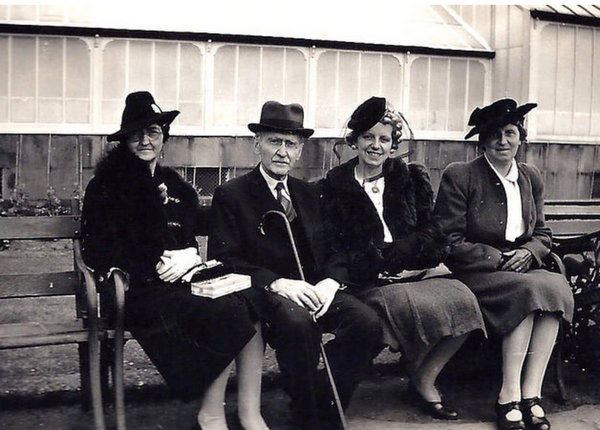 Image: photograph taken in Glasgow (l to r) Frances Stein, Wilhelm Stein, Florence Edna Collins (George's daughter), Florence Collins (George's widow).
I hope that in some small way, this story might show that there is more information available now to researchers and that, thanks to modern technology, such information is now easier to access than it used to be. Even without attestation papers or 'burnt' records, it is still possible to build up a picture of service using regimental histories and war diaries. The only war document relating to George that I have been able to obtain was his Medal Card from the National Archives [from an archive also owned by The Western Front Association. My own personal quest has been greatly enhanced by the research of WFA member, Fred Ashmore, and other sources of information in The Western Front Association 'Stand To' and 'Bulletin'. These are all valuable research tools.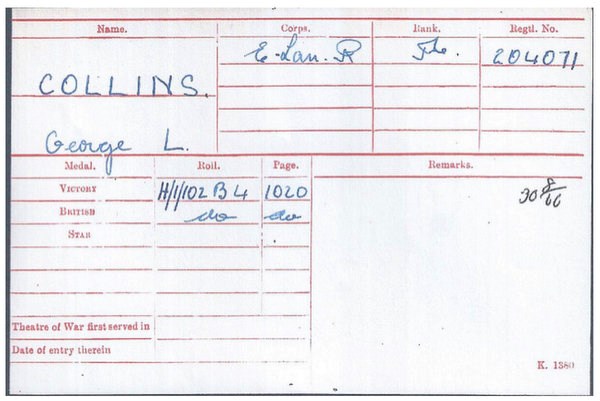 Image: Medal Card for George Collins, obtained on-line from the National Archives.
For the last few years, I have attended The Western Front Association's Cenotaph service, on 11 November, wearing George's East Lancashire Regiment Cap Badge as a brooch. It is one thing I can do, thanks to The Western Front Association, to 'keep the memory alive'. 
204071 Private George Leonard Collins,  2nd Battalion, East Lancashire Regiment
27 May 1918
Article and images submitted by Western Front Association member Fae Jones