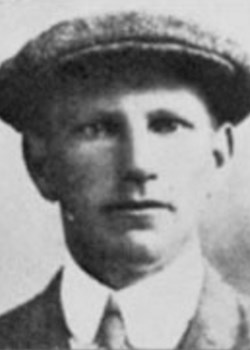 25/410 Pte James Metcalfe, 3rd Bn Otago Regt
Born at Cray, Yorkshire, on 5 November 1883, James emigrated to Masterston, New Zealand at the turn of the century and was employed as a labourer in Whahataki at the time of the outbreak of war.
He enlisted into the New Zealand Rifle Brigade on 12 October 1915 and embarked for Egypt on 5 February 1916. After several weeks in Egypt, he was transferred to the Western Front and was a participant in the Battle of the Somme. It was here, on 25 September 1916, that he was wounded in the right shoulder and left leg and evacuated to England for hospital treatment and recuperation, not returning to the front until June 1917. Upon his return, James was transferred to the Otago Regiment with which he served as a stretcher-bearer during the Third Battle of Ypres. After being severely wounded in action ('multiple wounds'), James died in No 10 CCS on 28 November 1917. He is buried in Lijssenthoek Military Cemetery near Poperinghe.
28 November 1917 died of his wounds.
Research by David O'Mara