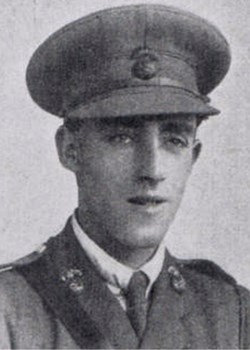 2nd Lieut. Hugh Maxwell Hutchinson, 26th Northumberland Fusiliers - Tyneside Irish
Born 10 May 1894, Stockton on Tees, County Durham. Hugh was a Law Clerk in a solicitor's office, Smith's Dock and Co, in the Bull Ring.
He enlisted with the Newcastle Commercials (Quaysiders) August 1914.
After training he entered France 15 July 1915. He was out there 21 months without leave, and came home early in 1917. Discharged 31st July 1917 (as received his Commission in the 3rd Northumberland Fusiliers). Wounded November 24th, 1917, and died of his wounds November 29th.
He was recommended for a commission by the C.O. of the battalion.
At the time of coming home he was acting sergeant-major, and had been twice recommended for the D.C.M. He returned to France in September 1917, as second-lieutenant of the 26th Northumberland Fusiliers, Tyneside Irish, was wounded (while in the trenches) by a shell on November 24th, 1917. He was so badly wounded that he never got beyond the clearing Station and died there on November 29th, 1917.
He was 23 1/2 years of age at the time of death. The wound to the head was so severe that his case was apparently hopeless from the first, but in addition to the head wound he was badly wounded in the right arm, side and leg. He is buried in the British Cemetery, Ficheux, south-west of Arras.
Died at No. 20 Casualty Clearing Station, France.
29 November 1917 died of his wounds.