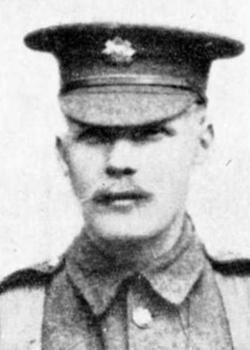 Frederick (Fred) was born in Hawes, Wensleydale, in 1886.
Fred was son of Elizabeth Cockett and (it is presumed) Joseph Moore (they married in 1891). Frederick was the eldest brother of Gunner John Moore, who is also recorded on this site, who died from his wounds in 1918.


In the 1891 Yorkshire Census, Fred, aged 4 years, was living with his grandparents, John and Mary Cockett (nee Constantine). John was the local butcher, a business established in 1854 and still running from the same site. 
By the time of the 1901 Census, Fred, now 14, was an apprentice tailor with John F. Wear, Tailor and boarding above the shop at 75 Main Street, Hawes - just around the corner from his grandfather's Butcher's shop.
Fred later moved to Burnley and joined the Army. In the Spring of 1914 he married Dinah Dover. Fred was one of the first to be sent to France, going out to France with the First Expeditionary Force, disembarking in France on 18 August 1914.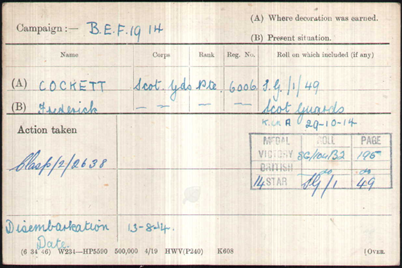 Fred was part of the 1st Battalion Scots Guards, he was killed in action on October 29, 1914 and confirmed 'missing' in early November 1914. A communication was received from a private of the same battalion, who was a prisoner in Germany, stating that from information he had received from men who were with him, he gathered that Fred had been killed by a shell at Ypres on October 29.
Fred had a daughter, Sarah Elizabeth Dinah, who was born in 17 January 1915.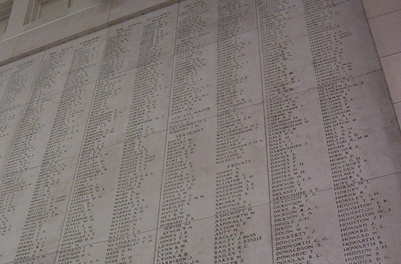 6006 Private Frederick Cockett is remembered on the Menin Gate in Ypres.

Articles in the Craven Herald record:

3 November 1916: A very impressive memorial service for the soldiers from the parish, and those closely connected with the parish, who have fallen in the War, was held in St. Margaret's Church [Hawes] on Sunday afternoon. From the Church tower the flag of St. George was flying half-mast, and the solemn tolling of the Church bell, announcing the hour of service, deepened the solemnity of the occasion. There was a large congregation, among whom were the relatives of many who have fallen. The service was conducted by the vicar (Rev. S. D. Crawford), and the hymns were 'Lead, Kindly Light', 'On the Resurrection Morning', and 'For all the Saints'. The soldiers whose memories were honoured were: Frederick Cockett, Albert Leach, Thomas Walton, J. W. Fryer, Reginald Milburn, James Banks, J. Chaytor Metcalfe, George Bargh, and James H. Milner

20 May 1921: MOORE – In loving memory of our dear sons, Gunner John Moore, died from wounds received in action, May 22nd, 1918; also Fred, killed in action, October 29th, 1914.
Ever remembered by all at Lion House, Hawes.

Information provided by: Fred's grandson and great niece.
Image courtesy of Craven's Part in the Great War