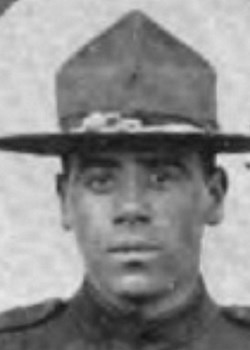 Charles F Brust was born in Brooklyn, New York (probably).
Little is known about the early life of Charles Brust.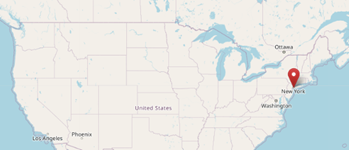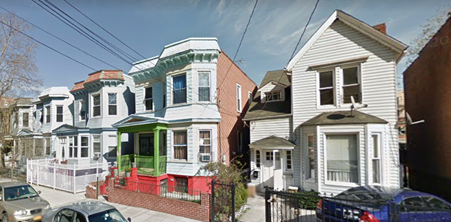 Charles was a resident of 3280 Hull Ave, Brooklyn, New York. (1) Charles enlisted in 71st New York Infantry shortly after the United States declared war on Imperial Germany.
After training at Camp Wadsworth, SC with his regiment (now designated 105th Infantry Regiment), Charles shipped out for France aboard the U.S.S. President Grant on 17 May 1918. (2)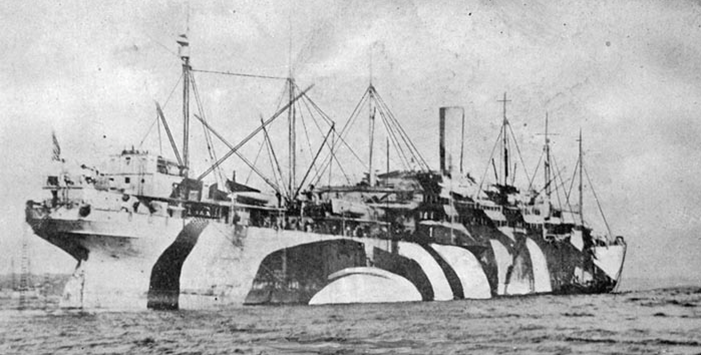 Upon arriving in France, the 105th Infantry, along with the other regiments and machine gun battalions of the 27th Division, began intensive combat training under British supervision.
On 30 June the 27th Division was ordered to move to the Ypres salient in Belgium.
On 9 July the division organised to defend a portion of the East Poperinghe Line in the Dickebusch Lake area. (3)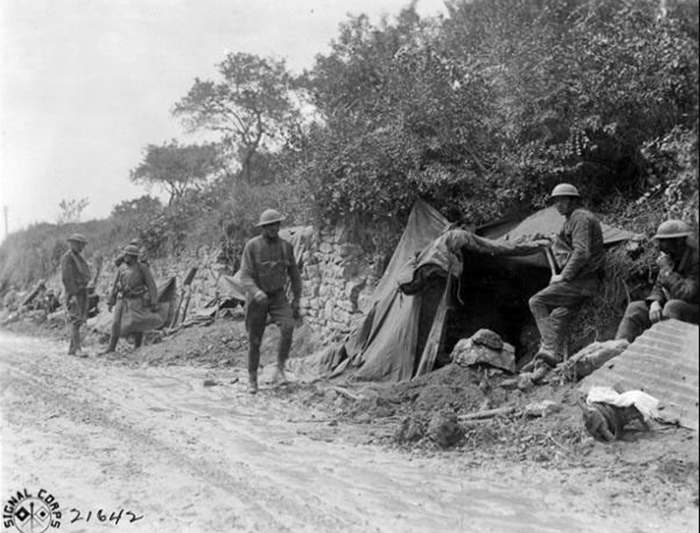 Company M entered front line trench duty near Dickebusch Lake on 22 August completing its movement at 0300 hours. (3) According to Sergeant H.J. Cochrane, Jr. of Company M, the trip to the front was not uneventful.
'Jerry shelled these woods most of the night but never did locate us. It rained during the night and our already damp equipment became more damp (sic)… the various companies met at a given junction of a road and we proceeded forward to Dickebusch along a railroad track. It was hard walking along these tracks for we slipped and stumbled over the ties; it was also difficult traveling on each side of the tracks on account of the sand. Shells landed along the route continuously.' (4)
For the next two days the 3rd Bn reported usual trench routine with no significant enemy activity. Light casualties were reported the next two days but the nature was not given.
From 25 – 30 August the 3rd Bn - along with the rest of the regiment - reported usual trench duties, occasional intense enemy artillery attacks, enemy trench raids, and casualties. (5) Sergeant Cochrane recorded the circumstances of Company M's first two combat deaths.
'Corporal Charlie Brust and… a replacement (Private Salvatore Buscemo) were killed by a H. E. (High Explosive). Charlie was a fine kid, one of the observing type and one who could be depended upon. Charlie and (Pvt Buscemo) had been instructed to take a position in a shell-hole out front of the line a bit and act as observers. An 0. P. (Out Post). Here they were to spend the day. In the Kemmel sector the country was flat, so it was impossible for them to do much observing by looking over. In Spartanburg we had been told that a trench-mirror placed on a long stick would make a fine periscope in the event of necessity. Charlie had evidently recalled this, for he pressed his mirror into service as a periscope. The mirror, flashing in the sun, caught Jerry's eye and what went through his mind we shall never know; perhaps he thought it an advance signal post, for he dropped several heavies near the 0. P., one of them taking effect.' (6)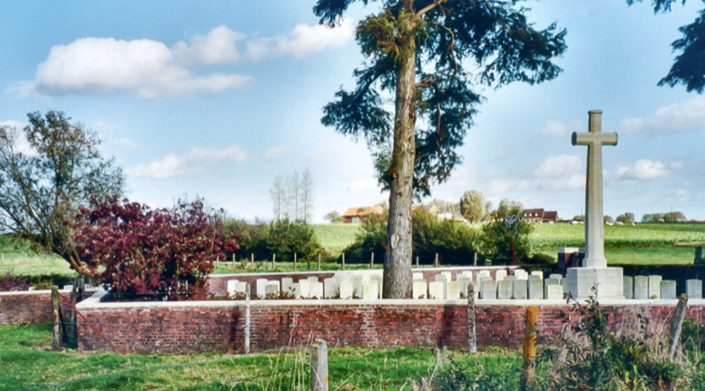 Corporal Charles F Brust was killed in combat on 30 August 1918. Charles was buried in Abeele Aerodrome Military Cemetery, Belgium, plot 3-D-7. (7)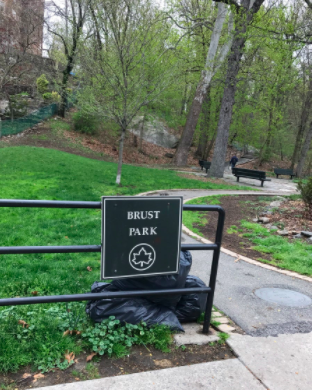 On 29 March 1940, New York City Mayor Fiorello H LaGuardia dedicated 'Brust Park' (Manhattan College Parkway and Dash Place in the Bronx) in honor of the memory of Corporal Brust. (8)
1224732 Corporal Charles F Brust, Company M, 3rd Battalion 105th Infantry Regiment
Research by LTC (Ret) Brian J Murphy
Additional photographs and maps added by Jonathan Vernon (August 2021) 
REFERENCE
(1) "New York Names on Casualty Lists", The Kingston Daily Freeman, 7 October 1918, [https://www.newspapers.com/image/28437179/?terms=Charles%2BF%2BBrust] (accessed 9 August 2016)
(2) John F. O'Ryan, The Story of the 27th Division, Vol I. (New York, New York, Wynkoop Hallenbeck Crawford Co., 1921), 146.
(3) 27th Division Summary of Operations In The World War (Washington, DC, American Battle Monuments Commission), 4.
H.J. Cochrane, Jr., "The Sergeant's Story", 71st New York in the World War, compiled by Robert Stewart Sutliffe (Privately published), 133.
(4) John F. O'Ryan, The Story of the 27th Division, Vol II. (New York, New York, Wynkoop Hallenbeck Crawford Co., 1921), 773 – 775.
(5) Cochrane, 135 – 136.
(6) O'Ryan, 1067.
(7) 'Brust Park', New York City Department of Parks and Recreation, [https://www.nycgovparks.org /parks/brust-park] (accessed 3 August 2015)
Further sources and links:
71st New York Infantry Regiment 
US Naval History and Heritage Command
Facebook:  The Long Trail: The Making of A Combat Division