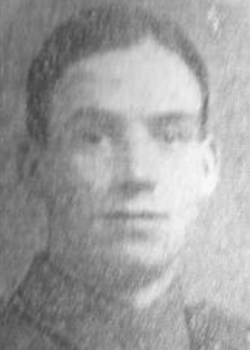 Francis Brunt was a hairdresser from Burnley.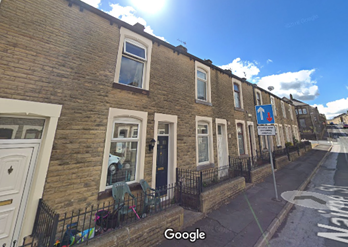 Francis Brunt was a hairdresser in business on Trafalgar Street, Burnely. He lived with his young family at 58 Nairne Street, Burnley, Lancashire with his wife Amy who he had married in September 1914. 
Francis enlisted in Blackburn on 28 April 1915. By this time he had two young children.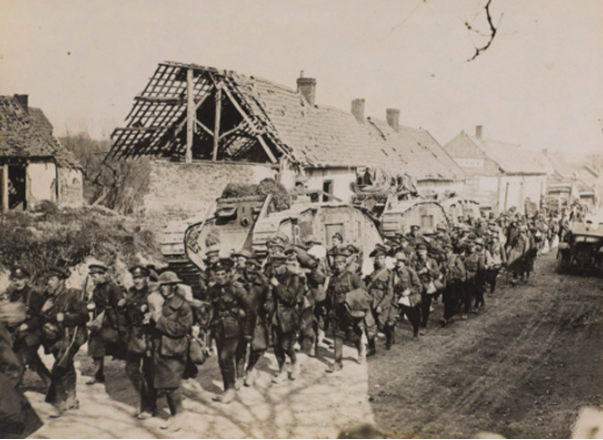 After being held on home service duties, Francis embarked for France on 3 March 1917 and saw service during the Battle of Arras, the 3rd Battle of Ypres and the German Kaisersschlacht offensive.
In October and then November 1917 he was given 'Field Punishment No.2' for 4 and then 3 days, for in turn, 'Ill treating a horse', 'leaving squad parade without permission' and finally 'damaging government property'.
Francis was seriously wounded in action on 30 May 1918. A telegram was sent home to inform his wife  that he was 'dangerously wounded'.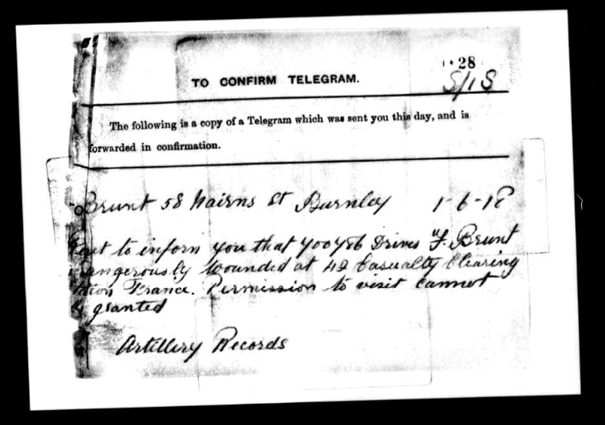 By the time the Telegram of 1 June had been received, Francis had died of his wounds. 
Francis died of his wounds in 42 Casualty Clearing Station on 30 May 1918.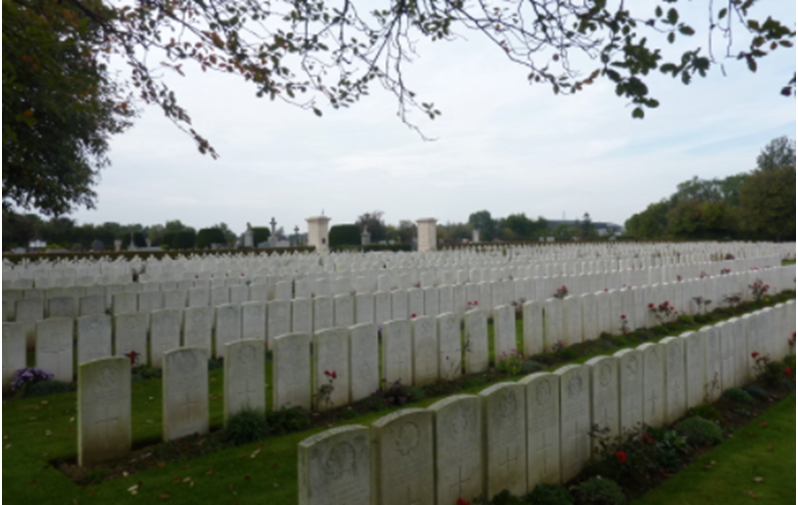 He is buried in Aubigny Communal Cemetery Extension, Pas-de- Calais.
700786 Dvr. Francis Brunt, B/210 Bty, Royal Field Artillery
30 May 1918 killed in action
Amy Brunt (née Coar) re-married to Fred Duckworth. 
Research by David O'Mara.
SOURCES
Ancestry.com. British Army WWI Medal Rolls Index Cards, 1914-1920 [database on-line]. Provo, UT, USA:
Ancestry.com Operations Inc, 2008. Original data: Army Medal Office. WWI Medal Index Cards. In the care of The Western Front Association.
The National Archives of the UK; Kew, Surrey, England; WWI Service Medal and Award Rolls; Class: WO 329
Ancestry.com. British Army WWI Service Records, 1914-1920 [database on-line]
The National Archives of the UK; Kew, Surrey, England; First World War and Army of Occupation War Diaries; Class: WO 95
War Office: Soldiers' Documents, First World War 'Burnt Documents' (The National Archives Microfilm Publication WO363
Long March: Story of "The Devil's Own" B/210 Burnley Battery Royal Field Artillery, 1914-19 Jack Horsfall, Pub: 1986
The Burnley Express 8 th June 1918
Commonwealth War Graves Commission (www.cwgc.org )
Soldiers Died in the Great War – HMSO 1921
Greater Burnley Roll of Honour Pub: Burnley 1920