Evan May was born in 1880 in Northleach, Gloucestershire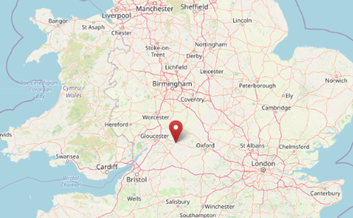 Evan's parents were Robert (a farm labourer) and Olive May. 
At the 1881 Census Evan was the youngest of four children, the oldest two, age 15 and 12 were working in turn as a domestic servant and a ploughboy. 
By the 1891 Census the older children had left home. Evan, not yet 11, was the middle son of  three, ages 14, 11 and 8 George, Evan, William. 
Towards the end of 1910 Evan married Emily Smith in Cirencester. 
Evan was 32 when he enlisted in Cirencester joining one of the New Army battalions - nine were raised to join the Gloucester Regiment.

He was killed in action during a bombardment of the trench he was in during the 'Battle of Pozieres' fighting for Mouquet Farm.
Evan May is remembered on the Thiepval Memorial.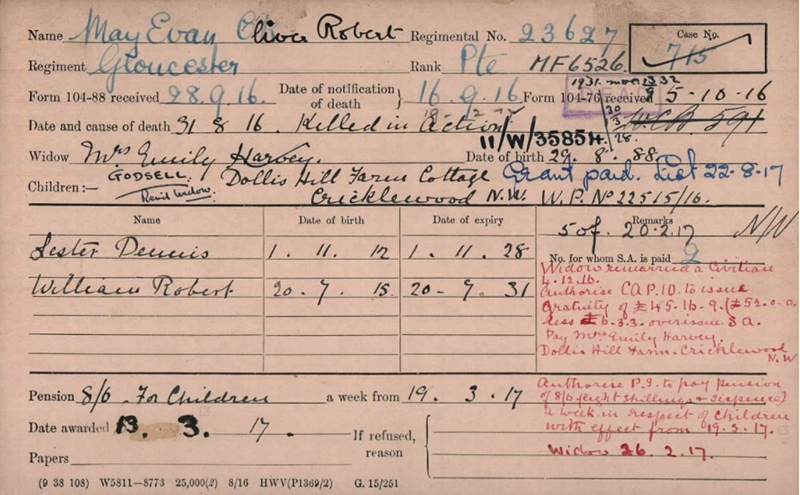 Evan and Emily had two children, Victor and William, ages 3 and 1 when their father died. Emily remarried a civilian and moved to Dollis Hill Farm, Cricklewood at the the end of 1916. He new husband died the following year.
Younger brother William served in the RAMC and survived the war. Older brother George, age 35 at the outbreak of war, remained in domestic service in Hassocks.
Pte Evan Oliver Robert May 19th (Service) Bn Gloucestershire Regiment
31 August 1916 
Killed in action 
Sources include: England Census for 1881, 1891, 1911. Pension Ledgers & Cards from The Western Front Association digital archive on Fold3 by Ancestry. 
Cirencester Archaelogical and Historical Society. (Accessed 30 August 2016)
The Somme Day by Day. Colin McCarthy (1994) p.85
Gloucestershire Regiment. Wikipedia. (Accessed 30 August 2016)
The Gloucester Regiment on the Somme