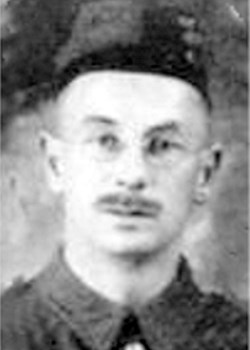 132009 Sgt James Sandeman Cunningham, 73rd Bn Canadian Expeditionary Force
Born at Broughty Ferry, Scotland on 4 May 1885, James emigrated to Canada, where he was employed as a chartered accountant in Montréal at the time of the outbreak of war.
James enlisted into the Canadian Army at Montréal on 31 July 1915 initially into the 13th Royal Highlanders of Canada, but he transferred to the 73rd Bn CEF upon embarking for overseas service at the end of 1915.
After spending some time in the UK, James was sent to the Western Front in mid-1916 and took part in the Battle of the Somme.
James was killed in action on 31 October 1916 near 'Regina Trench' during his first stint of front-line service (other than on working parties) and he is now buried in Adanac Military Cemetery, Somme.
31 October 1916 killed in action
Research by David O'Mara