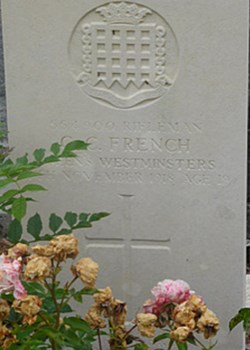 Born on 19 November 1899 in Walthamstow
Cecil French joined Blackhorse Road Boys' School on 11 June 1906.
He left school in April 1913 and transferred to the Technical School.
He enlisted in January 1917 and served as a Gunner in the 1st/16th Battalion, the London Regiment (Queen's Westminster Rifles).
He was killed in action, a fortnight short of his nineteenth birthday, on 4 November 1918 during the crossing of the River Aunelle.
He is buried in Seburg Communal Cemetery, ten kilometres east of Valanciennes, with 18 other Commonwealth burials, all from 4 and 5 November 1918.
5549000 Gunner Cecil Charles French, 1st/16th Battalion, the London Regiment (Queen's Westminster Rifles)
Research by Malcolm J Doolin
Reference "The Boys of Blackhorse Road. The Story of an Elementary School War Memorial"