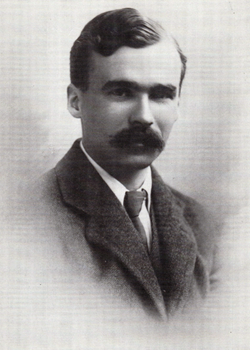 A founder of the English Folk Dance Society in 1911
Lt George Sainton Kaye Butterworth M.C. 13th Bn Durham Light Infantry 
George was born on 12 July 1885 to parents Julia Marguerite (nee Wigan) and Sir Alexander Kaye Butterworth, Kt., LL.B, a solicitor and manager of the North-Eastern Railway. He was christened on 30 August in Deerhurst, Gloucestershire by his grandfather the Reverend George Butterworth. 
He was educated at Eton and Oxford before becoming, for a short while and a music critic for The Times. This was followed by employment as a music teacher and enrolment in the Royal College of Music. He lived in turn at 19 Cheyne Gardens, Chelsea and at the time of enlistment at 17 Neville Court, Abbey Road, London. A man of wealth, in Cheslea at the 1911 Census he had three domestic servants (cook, housemaid and under-maid) and lived a 12 room apartment. On the Census he is described as 'living by private means'.
A founder of the English Folk Dance Society in 1911 and closely associated with Cecil Sharp who published The Country Dance Book in 1909 (in four parts). George produced parts III and IV with Cecil Sharp. These volumes describe in great detail, to allow their recreation, dances, folk-songs, Morris and Sword dances. George enlisted shortly after the outbreak of war in August 1914 into the 13th DLI, was promoted to Lieutenant on 13 February 1915 and arrived in France on 25 August 1915. His songs continued to be performed in London, four featuring in a chamber concert at the Grosvenor Rooms in March, 1916 including Professor Housman's 'Shropshire Lad' which George had set to music.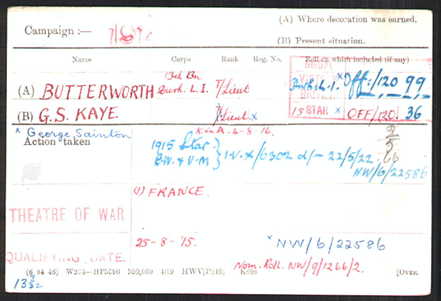 During his frontline service, George was three times recommended for the Military Cross and awarded it twice, the second award being for events that took place on the morning of his death.
George was killed by a gunshot to the head at Pozieres on 5 August 1916 and buried near to where he fell. His body was later lost: George is, therefore commemorated on the Thiepval Memorial to the Missing. He left an estate worth over £4,500. 
In November 1916 there was a song recital at Aeolian Hall on New Bond Street, London which included English-folk and modern songs composed by 'young officers who have fallen in action' - a recital given entirely by 'the younger generation'. The Manchester Guardian remembered George Butterworth alongside other artists, such as Rupert Brooke, Dixon Scott and H.S.Teed, wondering if, as in Japan, artists should not be permitted to take part in war.
5 August 1916: killed in action.
Research by David O'Mara and Jonathan Vernon
Photo from a Postcard which says on the reverse:
George Butterworth (1885-1916) Composer, folk song and dance collector and dancer. He worked with both Cecil Sharp and Ralph Vaughan Williams, becoming a particular friend of the latter until his death in action on the Somme. His 'Banks of Green Willow' is regarded as one of the finest orchestral settings of a folk tune. From the Vaughan William Memorial Library photograph collection. Published by English Fold Dance & Song Society, Cecil Sharp House, London NW1 7AY.