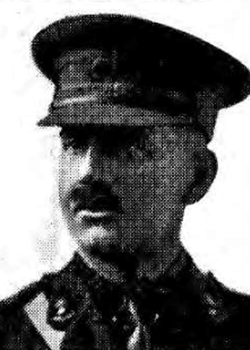 William Bovet was born in London on 15 August 1874
He was the second son and eldest child of five children of Frederick Bovet of London and Shanghai, China Merchant and Mary Love (née Haden). 
Educated at Grosvenor School and University College School, Gower Street, London and the Royal Military Academy, Woolwich, 
Gazetted 25 July 1893, 1895 Bombay Sappers, Commander, Royal Engineers, Mekran Operation 1898 ; 1 April 1896 Captain, 1903 in Somaliland , 1904 returned to India 
Took part in action in Jidvalli and mentioned in despatches 
25 July 1913 Major
Acting Commander, Royal Engineers at Kirkee, then served in Egypt where he served with the Anzac Division and later appointed Commander, Royal Engineers, of the 12th Division at Arras. Wounded 30 November 1917. Returned to service the following month. 
1 January 1917 Brevet Lieut. Colonel.
Died at No.3 Casualty Clearing Station, 5 July 1918 from wounds received at Bouzincourt that day. He was mentioned in despatches by Field Marshall Sir Douglas Haig for gallant and distinguished service in the field 
Buried in Bagneux British Cemetery, Gezaincourt
Sources: De Ruvigny's vol.5, Illustrated London News, 27 July 1918.